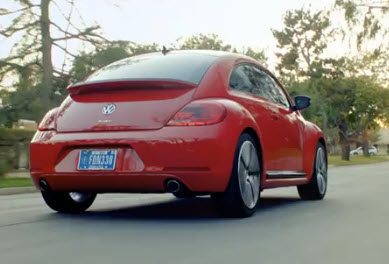 Volkswagen's Star Wars kid commercial during last year's Super Bowl was an instant hit, with over 50 million YouTube views. When you've got a hit, why not try to squeeze a little more water out of that well?
VW has teamed up with Lucasfilm again for a couple of Super Bowl spots this year.
The car company released a commercial in mid-January of dogs barking out Darth Vader's "Imperial March."
The second commercial is called "The Dog Strikes Back."
In this spot, we see an overweight dog deciding to get himself in shape. He does some exercises, and eventually is able to chase a passing Volkswagen car. The theme being "Back. And betterthan ever."
At the end we get a little toss back to the Darth Vader kid as we see a group of creatures from the Star Wars Cantina were watching the new commercial and make a comment about liking it better than last year's commercial.
Below you can see the new commercial as well as the behind-the-scenes look. Yeah, they put a fat suit on the dog.
View more videos at: http://nbcbayarea.com.