Five people were arrested during a Walmart protest in San Leandro.
A group of Walmart workers, labor activists, other low-wage employees and supporters gathered Friday afternoon at the store located at 15555 Hesperian Blvd. to shed light on low worker wages and workers' rights violations as part of a nationwide protest.
Protesters began blocking traffic in front of the store along Hesperian Boulevard before 5 p.m. Police were able to clear the road from protesters in about 20 minutes. Officers also said the five people that were arrested were cited and released.
In Roseville, outside Sacramento, 15 people were also arrested following a protest at a Walmart store.

Roseville police Sgt. Jeff Kool says the protesters were taken into custody Friday for failing to disperse when they blocked an intersection in the Placer County city.

The Sacramento Bee reports that the protesters had marched about a half mile to the intersection following a demonstration at a Walmart store.
They were among a group of about 100 people protesting Walmart's wages and labor practices. Similar protests took place at Walmart stores around the country on Friday.

Walmart spokeswoman Amelia McLear told the newspaper business at the store was not affected. She called the protesters a "vocal minority.''

Earlier in the day, in Southern California, a man dressed as Santa Claus was among 10 people cited outside an Ontario Walmart during a Black Friday protest over what they say are low wages at the retail giant.
Picketers chanted, "Less Than 25K Not OKAY," in front of the Walmart in the San Bernardino County city of Ontario, 35 miles east of downtown Los Angeles, while police in riot gear looked on.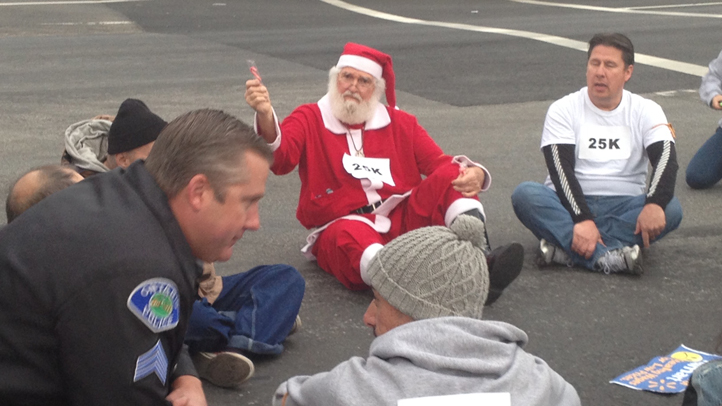 The protests were part of a nationwide campaign calling for better jobs. The protests took place in nine major U.S. cities in what its organizers called "one of the largest mobilizations of working families in recent history."
The protesters in Ontario were cited for misdemeanor charges of failure to disperse, officers said. The protesters were sitting in the street and holding their hands up.
Police said they had ordered the crowd to leave at least three times in both English and Spanish.
Among those arrested was a former Walmart employee who was fired from his job last June.
"I actually made under $25,000 a year," he said, adding he has a newborn and will have to apply for food stamps.
Walmart officials said they expected demonstrations at their stores, but said there are fewer than their critics claim.
"Black Friday is a big stage, and we're one of the biggest players in the retail industry," David Tovar, a Walmart spokesman, wrote in a statement. "We're not surprised that those trying to change our industry are using this platform to get their message out, and we respect their right to be heard."
PHOTOS: Outrageous Black Friday Behavior
Mark Lanning, a Walmart garden center merchandise supervisor, said he left a job in the entertainment industry to take a job at Walmart.
"I think people will listen," he said. "I think they'll make their own decisions. I think this is the best career choice I've made in my life."
He said he earns a paycheck and benefits.
"I don't know how they form this negative opinion of Walmart," he said.
Walmart shopper Ericka Talton was disappointed by the protests.
"I thought the street was blocked off because of an accident," she said. "The protest is sad because Walmart has good prices."
MORE: Brawl Breaks Out at San Bernardino County Walmart
Anita Ledesma, a shopper and former Walmart employee from Chino, said she stopped working for reasons unrelated to the protest.
"It's like a little family," she said. "And when I saw those picketers out there, nobody mentions the bonuses that they get. And raises."
Bay City News contributed to this report.