At the National Infantry Museum outside the gates of Fort Benning in Columbus, Georgia, one can find a well-preserved collection of World War II-era buildings.
Richard Zinn has come all they way from Walnut Creek to soak up some of the history here.
Truth be told, though, Zinn didn't come all the way to Georgia just to see buildings. He came to see men.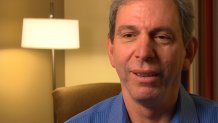 "Absolutely. These are the ones who saved my father's life," Zinn said.
Zinn's father, Herb Zinn, served in the 95th Infantry Division during the Second World War. Like many of his generation, though, the elder Zinn didn't share much about his war experience with his family.
"Anytime I would ask for detail he was just say, 'I don't want to talk about it. I can't talk about it,'" Zinn said.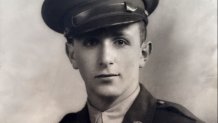 In fact, all the son could get out of his father before his death in 2006 was that, during the battle for the French city of Metz, Herb Zinn was one of a small group of soldiers trapped behind enemy lines for eight days before being rescued on Thanksgiving Day 1944.
Then, on a whim last year, Richard Zinn searched on-line for more information about the Battle of Metz. His research eventually lead him to travel eastern France this past summer where, with the help of a local woman, Zinn found the very spot where his father had been trapped, then later rescued.
"Tears were coming down my face," Zinn said. "It was the most spiritual moment of my life."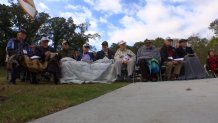 Still, knowing the place is not quite the same as knowing the whole story.
Which is why Zinn recently traveled to Georgia to attend the 66th reunion of the 95th Infantry Division. More than 15,000 soldiers served in the 95th during the Second World War. Only 14 were able to make the reunion.
"Most of them are gone now," Zinn said. "But whoever is here, I personally want to thank. They saved my father's life."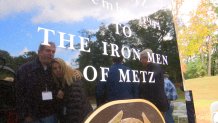 Zinn also longed to meet at least one soldier who served with his father.
He met two.
One of whom, Jerry Schwarz, told an almost identical story about being trapped behind enemy lines for eight days. Zinn finally had found a person to answer all the question his father was never able to.
Zinn peppered Schwarz with questions about what the experience was like, finally getting the answers he had so long wanted. "You have no idea how much this means to me," Zinn told Schwartz.