It is a heavenly recipe for big crowds: take a week of school vacation, add a few feet of new snow, and top it off with some warm sunshine.
Put it all together and you have thousands of skiers and riders packing their gear and heading to the mountains.
Of course, not all that gear makes it back home. Each year thousands upon thousands of pieces of ski gear and clothing end up in ski resort lost and founds.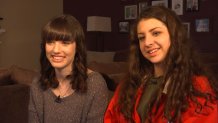 "We still lose stuff," said Katrina Kirsebom about she and her friend, Corinne Hindes.
Kirsebom and Hines, both 16-year-olds from Walnut Creek, have been skiing since they were little girls. They are now experienced ski racers.
They have spent enough time at ski resorts to know, first-hand, that many coats, gloves, hats, and mittens end up left behind at the end of the day.
Five years ago, the two came up with a great idea for what to do with all of it.
"We kind of noticed homeless people on the streets," said Hindes about her hometown, "and we noticed they weren't really wearing any warm clothes during the winter."
So the two young women came up with an idea for a non-profit they called Warm Winters: collect the leftover clothing from ski resorts and donate it to the homeless.
"It kind of snowballed from there," Kirsebom said.
Warm Winters is now working with 30 ski resorts in 12 states and even one in Australia. Hindes was recently recognized by the Gloria Baron Prize For Youth Heroes for her efforts. To date they have donated clothing valued at almost half a million dollars.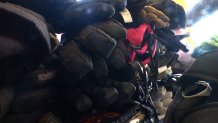 It's a total that makes the young women feel very good, though not quite as good as seeing someone on the streets of their hometown, in a jacket they got for them.
"It feels really good," says Hindes. "It makes you feel like you're actually making a difference. It makes the whole situation very real and it kind of brings you back to reality and shows you that like you're actually impacting someone's life."
Ultimately, it has proven to Hindes and Kirsebom that it is possible to get a warm feeling, by giving others exactly the same thing.