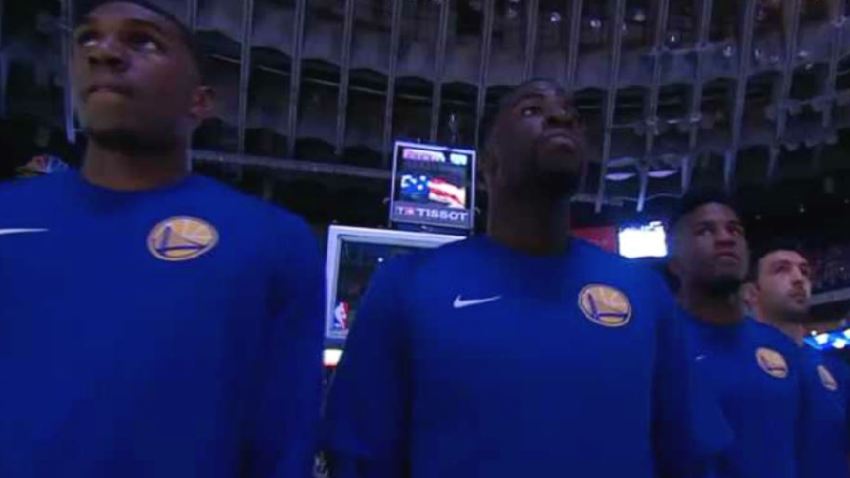 The Oakland Warriors pre-season opener had a lot of fans wondering if Steph Curry and his teammates would join in solidarity, like many sports teams have and take a knee, during the singing of the National Anthem.
Unfortunately for many fans, the Golden State Warriors decided against any kind of display, but the Denver Nuggets, and the team's coaching staff, chose to link arms.
"No matter what we do, we're going to take criticism, "said Warriors Coach Steve Kerr. "If our guys were to kneel, people would say, why are you kneeling? Tonight maybe they said, why weren't you kneeling?"
President Donald Trump has been at the center of controversy after tweeting at NFL football players imploring them to stand during the National Anthem. In the last week, President Trump went after Steph Curry for saying he wouldn't attend the White House celebration for the team's championship. In response, President Trump rescinded the whole team's invitation.
Many Warriors fans were surprised to see the Denver Nuggets linking arms and cheered them on for their solidarity.
"They didn't do anything," said Warriors fan, Bruce Nadler. "Denver did. I was kind of disappointed that they didn't at least lock arms."
Many members of the Warriors team, including Curry, have expressed their solidarity with former 49ers quarterback, Colin Kaepernick, the first athlete to kneel during the National Anthem.
It's possible the Warriors chose not to kneel due to a specific NBA league rule that requires all athletes to stand for the National Anthem.