A video shows Seattle Aquarium's giant octopus "Ink" trying to crawl out of his tank, prompting online speculation as to whether he was attempting an escape or simply exploring his new surroundings.
Ink didn't get too far. An aquarium staffer helped the animal back into its enclosure. LiveLeak posted the footage Wednesday, which immediately became fodder for online blogs and sites. The Huffington Post and Gawker wondered whether there was a "worldwide octopus uprising" going on.
Just a few days ago, another octopus grabbed a camera from a researcher and turned it on him, and the post went viral on Reddit.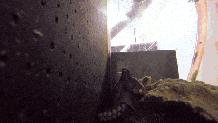 There were also reports about an octopus that jumped out of the water to snatch a crab.
As for the Seattle octopus, Reddit commenters wondered what could have prompted it to scale the tank.
Seattle Aquarium officials told the local Seattle Fox affiliate the "video has been blown out of proportion." "It's a new octopus 'Ink' in a new exhibit exploring his boundaries," officials said. "In the video that's been shared by the public it's one of our staff members helping Ink bank into his exhibit after exploring the edge."
The aquarium holds daily octopus feedings, where visitors can watch the giant Pacific octopus consume crabs, clams and even other species of octopus.