The seat was his for the taking.
It was the early 1980's and Cornell C. Maier, the recently retired Chairman and CEO of Kaiser Aluminum, was being offered a seat on the Board of Directors of Oakland's Children's Hospital (now UCSF Benioff Children's Hospital Oakland).
The seat was to be a reward for years of generous contributions by Cornell to the hospital. "It was a few hundred thousand dollars," the now-90-year-old Cornell guesses.
Cornell says the CEO of the hospital who offered him the seat was a bit surprised when he turned it down, instead telling him there was a different seat he had his eye on.
"I had been on plenty of boards. I wanted to be where the action was," Cornell says.
The "action," according to Cornell, was in the hospital's neonatal intensive care unit. The chair he wanted was the rocking chair where volunteers sit to hold premature and sick babies. Cornell has now been filling that chair, twice-a-week, for more than twenty years.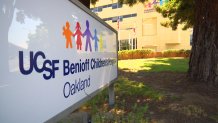 "When I get a baby on my shoulder, and feel its cheek next to mine ... it's as close to heaven as it gets," Cornell says.
WATCH MORE BAY AREA PROUD STORIES
The practice of having volunteers hold babies in the NICU is not unique to Children's Hospital Oakland. Study after study have shown the benefits of human contact to young children. The volunteer baby holders are there to give parents a respite and free up staff to perform other duties.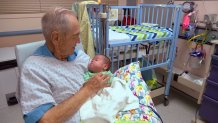 "What's good for the baby, is good for the parents, the staff, the whole unit," says Betty Flushman, in infant development specialist at the hospital.
But while the job is not unique, Cornell is certainly different than their typical volunteer, and not just because he passed up a director's chair to be here.
Cornell, born in a small South Dakota town of just 500 residents, served as a navigator on a B-24 bomber during World War II, flying 51 missions over Europe before returning home.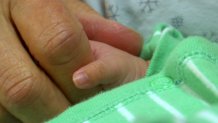 He started as the bottom at Kaiser Aluminum, but rose rapidly through the ranks. At just 47, Cornell was promoted to the corner office.
Through it all, Cornell never married or had children of his own, but always had a soft spot in his heart for babies.
"I just think they're such beautiful miracles, and to me, they are a miracle," he says.
As he cradles and talks to the babies, Cornell sometimes thinks about their parents and caretakers. Often stepping in to give them a break when needed, he says he hopes to help mothers or fathers who have other commitments, like work, to attend.
Laughing and saying how he doesn't know how his volunteer job could get much better, he reflects again on what heaven would look like for him.
"If I'm lucky to get there and I can hold babies, see my family and friends, that'll be all the reward I need."