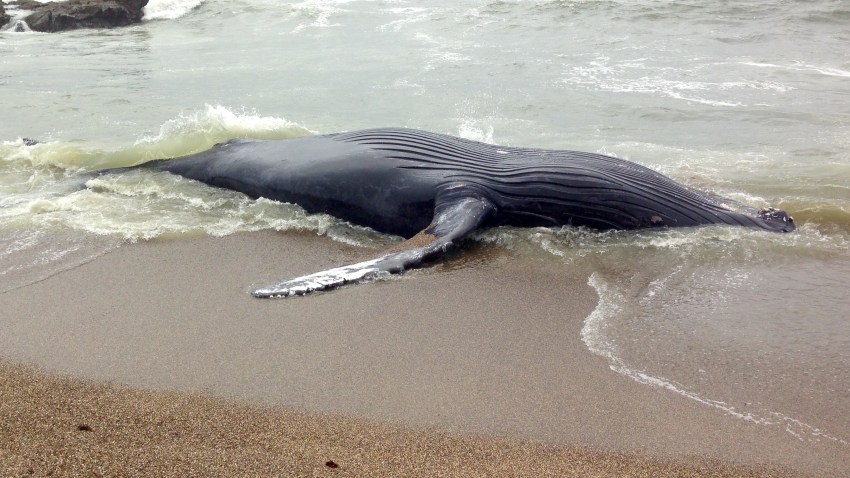 A humpback whale carcass washed ashore at a Peninsula beach sometime during the past few days, according to an eyewitness.
Bystanders stopped to take a photo Sunday afternoon of what appears to be a dead humpback whale resting in the shallow water along the shore at Bean Hallow State Beach in Pescadero, according to eyewitness Jae Cee.
On Monday, the Marine Mammal Center and California Academy of Sciences sent a team of six scientists to perform a necropsy on the carcass. Experts identified it as a 32-foot juvenile female humpback whale, which is listed as an endangered species.
After performing a necropsy to determine the whale's cause of death, scientists observed massive fractures to the back of the whale's skull, evidence of blunt force trauma that would be consistent with a vessel collision. The team also found a cut on the front right flipper that was indicative of a previous entanglement.
"Every whale stranding serves as an opportunity to learn about these majestic creatures and how we can prevent future deaths," said Barbie Halaska, a research assistant at the Marine Mammal Center. "Our team will be further analyzing tissue samples to determine the cause of death."
Humpback whales have been sighted along the San Mateo County coast in recent months as they slowly move north, feeding on their migration route. The whales are among the most endangered whales in the world. Fewer than 10 percent of their original population remains.
Nearly 1,400 humpbacks frequent the California coast in the summer and fall now. The humpback's global population is estimated to be between 35,000 and 45,000.
The Marine Mammal Center has responded to more than 20 humpback whales in its 41-year history, including a response to Humphrey in 1985 and 1990, and Delta and Dawn in 2007 – all three in the SF Bay.
Earlier this month, a team of 15 scientists from the center and California Academy of Sciences performed a necropsy on a 30-foot sub-adult, male humpback at Bean Hollow State Beach. The necropsy revealed that the animal had multiple vertebrae fractures, consistent with signs of a possible ship strike.
The center typically responds to between two and 11 whales each year. According to center officials, it's normal to see an increase in strandings with the increase in the number of whales in the area.
Whale carcass washes ashore in Pescadero, eyewitness says. https://t.co/x9MOrHV3xj pic.twitter.com/vdFkifQmfu — NBC Bay Area (@nbcbayarea) July 25, 2016