If you had to go through the worst part of your life in order to get to the best, is it really the worst?
Chad Bojorquez doesn't quite have an answer to that question yet.
Perhaps that is because the absolute best part of his journey, Bojorquez believes, is still ahead of him.
He has good reason to think so.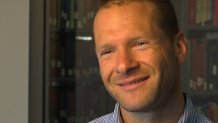 Earlier this week a group of well-meaning, civic-minded San Jose residents presented Bojorquez with a check for $78,000. It is money to help him purchase a specially-equipped van he will be able to drive while sitting in his wheelchair.
The van will make family life much better for the father of three, as well as help him greatly in his work: project director for Downtown Streets Team, a non-profit with a tremendous track record of helping homeless people land a job and find housing.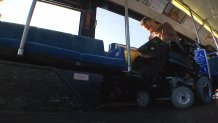 "I'll forever be grateful and it's life-changing," Bojorquez said.
The 36-year-old Bojorquez was born with a muscular disease that required 14 surgeries by the age of 10. His physical limitations didn't hinder his academic achievements. He graduated from Campbell's Westmont High School in just three years and was accepted to study film at the University of Southern California.
It was there, however, that some future demons first got their hooks in Bojorquez.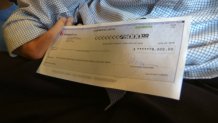 "I was pretty depressed, pretty lonely, using substances to kind of fill that hole," Bojorquez said.
It was the beginning of a downward spiral that ended up with Bojorquez living on the streets of Santa Cruz for four, tough years. It was an experience that taught him had strength he never realized. With the help of his grandmother, Bojorquez fought his way back into society.
"I just survived this experience that not everyone does and that was pretty empowering," Bojorquez said.
Bojorquez decided he wanted to make a life out of helping those whose lives he knew very well: the homeless and very low-income.
He was one of the first employees of Downtown Streets Team and has risen in the ranks as the nonprofit has continued to grow. His position in management posed a dilemma for Bojorquez. He was spending hours and hours navigating public transportation to fulfill his responsibilities all over the South Bay.
"The morning could be in Palo Alto, the middle of the day could be in San Jose and the end of the day could be in Sunnyvale," Bojorquez. Each leg of the journey could take upwards of two hours.
Bojorquez had often dreamed of what good he could do with a van he could drive himself but realized he would never be able to afford the roughly $100,000 needed to buy a properly equipped one.
He could, however, afford a cup of coffee with Julie Matsushima. That was enough.
Matsushima has a long record of promoting causes to improve San Jose and the lives of the disabled (Matsushima's drive to help create the Rotary Playgarden, an accessible playground in San Jose was the subject of previous Bay Area Proud story).
Matsushima heard Bojorquez's story and sprang into action.
"He's just so inspirational," Matsushima said.
Through her nonprofit, That's Amore, Matsushima and team of other women started the "Wheels For Chad" campaign. They held fundraisers throughout the year and were eventually able to come up with money, which the presented to Chad on Monday.
The money should be enough for Bojorquez to begin the process of purchasing and outfitting the van, but the group will continue to fundraise until the job is done.
Bojorquez says the van will not only make his work more productive, it helps him be a better father to his children.
"It's incredible. It's humbling, it's a dream come true. It makes me you know... I believe in humanity."