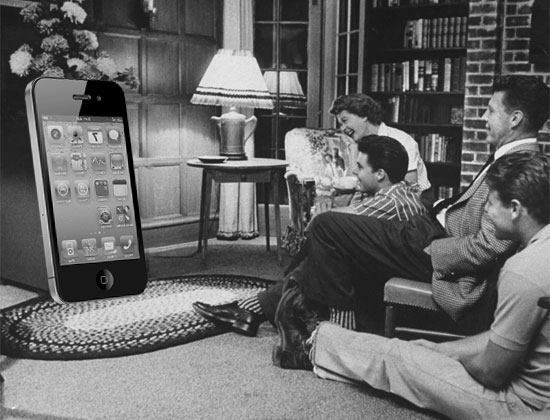 Remember those small portable TVs you used to carry to ballgames or the beach, the ones where if you moved an iota, the picture went from shaky to snow?
Once analog TV broadcasting went away, so did these skittish portable TVs. And once digital television came in, we were supposed to get mobile digital television — MDTV — built into cellphones.
So where are our cellphones that receive digital television signals?
When?
Brian Cohen, the befuddled mistaken savior in Monty Python's Life of Brian played hysterically by Graham Chapman, yearns to join the anti-Roman revolutionary group the Judean People's Front. Not the hated People's Front of Judea. Or those #*%&@! splitters, the Judean Popular People's Front. And never, of course, the late and not lamented Judean Popular Front.
Monty Python's spoof of multiple competing organizations all advocating for a single outcome comes to mind when figuring out when we're getting MDTV.
Dueling Consortiums
Fighting for the adoption of the MDTV standard and now for consumer adoption is the Open Mobile Video Coalition (OMVC), the membership of which includes everyone with a rooting interest in getting Mobile DTV on the air, including a majority of the nation's broadcast stations.
Once the standard was passed, two other MDTV organizations sprung up: the Mobile Content Venture (MCV) and the Mobile500 Alliance. The former group is made of up of larger broadcasters in large markets led by Fox and NBC; the latter group is comprised of smaller broadcasters in smaller markets.
Why two groups? According to its press release boilerplate, Mobile500 "…is a voluntary alliance of leading television broadcasters that seeks to… accelerate the nationwide availability of a commercial mobile digital television service for consumers."
This aim is much different (he said sarcastically) from the Mobile Content Venture, which represents a different set of broadcast groups, which "...aims to be the catalyst for a new national mobile video service that utilizes existing broadcast spectrum to enable member companies to deliver content to mobile devices…"
That's correct. There are three consortiums advocating the spread of mobile digital television. Somewhere Graham Chapman is smiling.
Why?
OMVC is merely an advocacy group, pumping the whole idea of MDTV. MCV and Mobile500, however, are more like buying groups, negotiating for the content stations need to fill multiple MDTV broadcast streams. While both groups share the goal of acquiring MDTV content to broadcast, there is a natural conflict between large market stations and small market stations on the how, especially concerning issues of "conditional access" — an industry term to indicate paid content (VOD, subscription, etc.) — which will supplement the free MDTV content all broadcasters plan to provide. These content issues are what have been holding up the MDTV works.
On The Digital Air
The MDTV standard was adopted by the FCC more than a year ago, with broadcasters "poised to roll out an array of digital program services," according to an OMVC press release at the time. But only 50-60 out of more than 1,600 broadcast stations scattered hither and yon across the country (nine alone in Washington, D.C.) have gone from "poised" to actually transmitting MDTV streams (each station can broadcast multiple streams of digital content).
There were a dozen or so MDTV-equipped cellphones, portable TVs, portable DVD players and USB antennas on display at last year's CES, but so far only three MDTV gadgets are available — two USB laptop antenna receiver dongles (the Pixtree PXT-100 and the Coby DTV111), and the LG MDTV-equipped portable DVD player.
And it looks as if widespread mobile DTV availability will remain simply "poised" for at least another year.
Wait 'Til Next Year!
Earlier this month, the MCV announced "a commitment" (I guess they weren't quite as "poised" as originally thought) to get at least two TV stations in 20 markets to begin transmitting ad-supported free-to-consumer MDTV channels by late 2011. Mobile500 hasn't announced any analogous MDTV rollout plans from its smaller member stations, possibly because it just hired a new executive director.
We'll be seeing a lot more MDTV-enabled products early next year, including more laptop USB dongles, more portable TVs and DVD players, and especially the first commercially available MDTV-enabled phones from LG and Samsung, prototypes of which I've seen at the last two CESs. Most of these new MDTV devices will likely be available next summer.
Don't expect either iPad 2 or iPhone 5 to include built-in MDTV reception, however. Apple likes to make one device that'll work anywhere in the world, and our digital DTV technology, ATSC (American Television Systems Committee), is a U.S. standard only. There are multiple non-compatible MDTV standards around the rest of the world.
If you want to find out if your city currently has a station broadcasting MDTV or what stations plan to start broadcasting when, check out OMVC's list of MDTV cities.
MCV and Mobile500 communicate, thank goodness, since they have more commonalities than differences, and the members of each are all members of OMVC. For the sake of getting the MDTV show on the air sooner rather than later, let's hope three heads are better than one.
For the latest tech stories, follow us on Twitter at @dvice
Copyright DVICE - DVICE