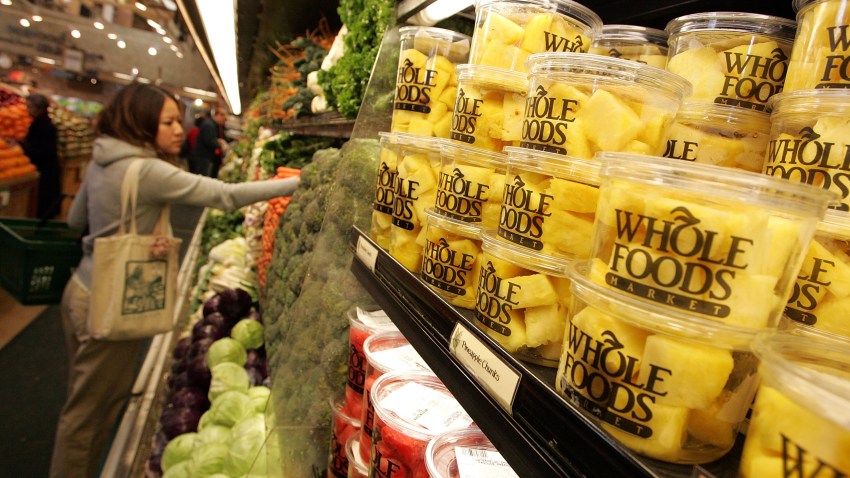 Wednesday marks the official grand opening of Whole Foods Market's seventh store in San Francisco -- this one at 2001 Market St. in the city's Mission Dolores neighborhood.
Packed with fresh organics, pastries, coffee, sushi, special meats, cheeses, spirits and household basics, the 28,000-square-foot store has something for everyone -- even if it's just a shoeshine.
"We'll have all our regular healthy and uber-local food options, plus some cool new services like a shoeshine station, fresh honeycomb, a Paleo bar, oysters hand-shucked by fishmongers, and a coffee bar close to the entrance so it's easy to grab a cup while you're waiting for the bus," store team leader Paula Richmond said.
MORE: Ground Broken on San Jose Whole Foods, Rooftop Microbrewery
Located at the corner of Market and Dolores streets, the new store has a look meant to complement its diverse urban surroundings, store officials said. The design, described as "playful, yet refined and glamorous," features LED lights, reclaimed wood and electric car charging stations.
This morning, the store planned to mark its grand opening with a special bread-breaking ceremony with Supervisor Scott Weiner and Whole Foods Market Northern California Regional Director Rob Twyman.
MORE: Whole Foods Shows What a Produce Section Would Be Without Bees: Empty
Whole Foods spokeswoman Beth Krauss said a crowd of about 100 came out to the grand opening and bread-breaking of a giant challah loaf -- a ceremony that is likened to a ribbon cutting, but representative of all of the hard work and collaboration it took to build and open the store, Krauss said.
"It is representative of the culmination of our work here, so we come together to break the bread," she said.
The large loaf was baked in one of the store's ovens.
The store will be open daily from 8 a.m. to 10 p.m., with extended holiday hours for Thanksgiving.
Copyright BAYCN - Bay City News