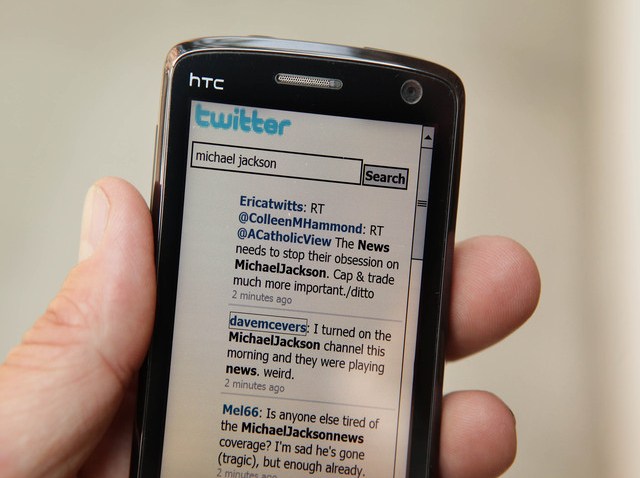 To address its Google envy, Microsoft has teamed up with Twitter and Facebook.
Microsoft executive Qi Lu announced Wednesday at Web 2.0 Summit in San Francisco that Bing, the search engine he oversees, would include status updates posted by Twitter and Facebook users.
Why pay attention to people's online blurts about what they had for breakfast or which musician they like? The data, Lu and his colleagues hope, will help Bing track Internet trends in real time.
Not to be outdone, Google followed shortly with an announcement of its own deal to search Twitter.
When Google got its start in the 1990s, search engines updated their index of the Web over a period of weeks, resulting in out-of-date search results. One of its many innovations was to develop faster crawling routines, scanning the Web more quickly to develop a better picture of what's out there to search.
It's even patented a system for determining how often to crawl certain Web pages -- news pages minute-by-minute, cute-puppy galleries less frequently.
Before these deals, nothing was stopping Microsoft and Google from indexing Twitter and Facebook's public pages, of course. But those companies are now delivering their new partners updated feeds of their users' posts, which should make updates a little fresher. So now Bing has a Facebook-powered edge on Google.
Microsoft has already invested $240 million in Facebook (albeit for a minuscule stake). This deal would seem to be part of a long-awaited payback. And for Twitter, which is widely thought to be charging Microsoft and Google a fee for special access to its stream of 140-character tweets, the deal is the first glimmer of a business model for the free-to-use website.
Will it pay off? Real-time search is a hot Internet trend, and venture capitalists have been hyping it as the next big thing. But it's not clear that many people outside of Silicon Valley's ranks of real-time attention-deficited information junkies need to search a spew of real-time blather.
Facebook, which switched its homepage to a Twitter-like real-time feed earlier this year, is now considering rolling that back to a more filtered view of friends' updates across a longer period of time -- meaning that family photos and friends' birthdays won't be lost in a jumble of Mafia Wars spam.
It wouldn't be the first time Microsoft has lavished money, time, and attention on a pointless project.