What to Know
Fire has swept through the historic Gold Rush town of Shasta and hit homes in Redding, a city of 92,000
Carr Fire has destroyed about 500 structures and is threatening nearly 5,000 others
Flames have burned through over 80,000 acres
Firefighters battling a deadly wildfire in Northern California kept it from doing more damage to the city of Redding but three smaller communities were in danger as flames closed in and residents packed up to leave.
The fire grew by about 35 percent overnight to 127 square miles (over 80,000 acres) and pushed southwest of Redding, toward the communities of Ono, Igo and Gas Point. The winds that aided firefighters in keeping the flames from more populated areas were propelling it forward at a frightening rate.
"We're not getting a break with the weather," said Chris Anthony, a spokesman for Cal Fire, the state agency responsible for fighting wildfires. "It just continues to be really hot, really dry and we continue to get those winds. ... This fire's getting so big and there are so many different parts to it."
Three Redding residents have been found dead, the family confirmed to NBC Bay Area.
Five-year-old James Roberts, 4-year-old Emily Roberts and Melody Bledsoe were caught in the path of the Carr Fire when they were about to evacuate their home on Quartz Hill in Redding, Bledsone's granddaughter Shelly Hoskison said.
The flames moved so fast that firefighters working in oven-like temperatures and bone-dry conditions had to drop efforts to battle the blaze at one point to help people escape. Two firefighters were killed: Redding fire inspector Jeremy Stoke and a bulldozer operator Don Ray Smith of Pollock Pines. He was the second bulldozer operator to die in a California blaze in less than two weeks.
[NATL-BAY]PHOTOS: Carr Fire in Shasta County Destroys Homes, Kills 8
The so-called Carr Fire was ignited Monday by a vehicle and exploded Thursday night, jumped the Sacramento River and pushed into Redding, about 250 miles north of San Francisco and the largest city in the region with about 92,000 residents. Two firefighters were killed and the latest tally of 500 destroyed structures was sure to rise. About 38,000 people are under evacuation orders, 5,000 homes are threatened and the fire is just 5 percent contained.
Fire officials said Saturday that the number of the homes destroy "is probably much higher" that the 500 officially counted and confirmed.
President Donald Trump has approved the state of emergency declaration due to the wildfires.
"The President's action authorizes the Department of Homeland Security, Federal Emergency Management Agency (FEMA), to coordinate all disaster relief efforts which have the purpose of alleviating the hardship and suffering caused by the emergency on the local population," the statement read.

Elsewhere in California, large fires continued to burn outside Yosemite National Park and in the San Jacinto Mountains east of Los Angeles near Palm Springs. Nationally, 89 active large fires have consumed nearly 930,000 acres in 14 states, according to the National Interagency Fire Center. So far this year, nearly 37,000 wildfires have burned more than 4.25 million acres.
The Carr Fire destroyed nearly all of Keswick, a hamlet just west of Redding. One of the homes lost belonged to Shyla and Jason Campbell.
Jason, a firefighter, was six hours away from his home and family, battling a wildfire near Yosemite Valley, when the Carr Fire moved in with devastating speed.
"It's huge flames, it's coming up the hill, and everyone's out and we're watching it, then it goes down, and everyone's like, 'Oh it's going out,' " said Shyla, 32. "And I'm like, 'No, it's going down the mountain and it's going to come back up the next ridge.' "
She was right.
The family spent the night at a hotel. When Jason Campbell returned on Friday, he found their home of five years was gone, along with an RV and a boat.
"It's tough," Shyla Campbell said Friday as she sheltered in the city of Shasta Lake. "I just have to figure out where we're going to stay. We're just trying to stay away from the fire."
Thousands of people scrambled to escape amid flying embers before walls of flames descended from forested hills onto their neighborhoods Thursday. At least two flaming tornados toppled trees, shook firefighting equipment and busted truck windows, taking "down everything in its path," said Scott McLean, a spokesman for Cal Fire.
Residents who gathered belongings in haste described a chaotic and congested getaway as sparks flew and fire leaped across the wide Sacramento River, torching subdivisions in Redding.
Redding police chief Roger Moore was among those who lost their homes.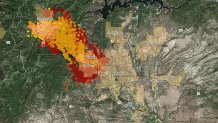 Greg and Terri Hill evacuated their Redding home of 18 years Thursday night with little more than their medications, photo albums, clothes and firearms, assuming they'd be back home in a few days.
When they returned Friday, virtually nothing was left but fine particles of ash. It was so hot, they couldn't walk through it to see if anything survived.
"It's pretty emotional," Terri Hill said. "I know it's just stuff. A lot of memories. But we'll make new memories and get new stuff. Everybody's safe."
The Hills fled before they were told to, knowing danger was afoot when the power went out and helicopters suddenly began flying low overhead.
Liz Williams loaded up two kids in her car and then found herself locked in bumper-to-bumper traffic with neighbors trying to flee from Lake Redding Estates.
She eventually jumped the curb onto a sidewalk and "booked it."
"I've never experienced something so terrifying in my life," she said. "I didn't know if the fire was just going to jump out behind a bush and grab me and suck me in."
Fire officials warned that the blaze would probably burn deeper into urban areas before there was any hope of containing it. So far, the Carr Fire has either changed direction or was stopped before it burning into Redding's city center.
Copyright AP - Associated Press