A 93-year-old woman was hospitalized with a broken hip after a purse snatcher knocked her to the ground last week at a bank in Concord.
Police are searching for a man who approached two women from behind in a Bank of America parking lot Friday, grabbing their purses and shoving Ann Pedersen to the ground before racing off.
The crime occurred in broad daylight as Pedersen was being escorted by a 63-year-old friend towards the bank.
The suspect is described as 6 feet, 3 inches tall, with a large build, bald with a goatee.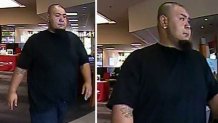 Police said he made the mistake of going inside the bank, where there are several surveillance cameras. He was last seen fleeing the area in a white sedan, which is believed to be a Chevrolet Malibu, Concord Police said.
Pedersen is a 45-year resident of Concord, according to her son. She remained hospitalized Monday after surgery for her broken hip. Her escort was uninjured.