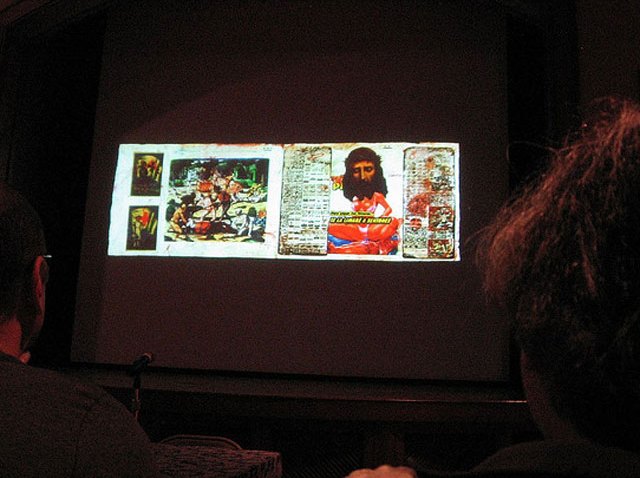 Stanford art professor Enrique Chagoya's latest work of art is controversial, to say the least. So offensive to some, they call it pornographic, smut and XXX-rated.

The piece in the center of the heated debate is a 12-panel lithograph, almost cartoon-style, that depicts Jesus Christ in various positions. It's called the "The Misadventures of Romantic Cannibals," and in one panel, an image appears to show Jesus receiving oral sex from a man.

The lithograph has been on display at the Loveland Museum Gallery 50 miles north of Denver, Colo. since mid-September and until now, has drawn little attention. Protesters began gathering outside the gallery about a week ago, holding signs in protest and calling for the artwork to be removed from the gallery.
Chagoya says his work represents what he sees as corruption in religious institutions, specifically child abuse committed by priests in the Catholic Church.

On Wednesday, a Montana woman became so enraged and offended by the piece, she took physical action against the artwork. Kathleen Folden took a crowbar to the exhibit, police said, busted the Plexiglass protecting the lithograph and began ripping it into pieces. She cut herself in the process.

"We were just coming in and were standing at the door," art dealer Mark Michaels told Denver's 9News, "and I heard a large -- like a thump -- and somebody yelled 'Oh, no!' And I looked up and I saw a nail-puller-type crowbar slamming the Plexiglass case several times until she broke it."

Michaels raced over and stopped Folden from further damaging the artwork and waited for police. Folden, 56, was arrested on a charge of criminal mischief.
Chagoya is a full professor at Stanford's Department of Art and Art History and lives in San Francisco. His works is displayed in several public galleries, including the Museum of Modern Art in New York, the Metropolitan Museum and the San Francisco Museum of Fine Art.
Photo from Libby Rosof, via Flickr.