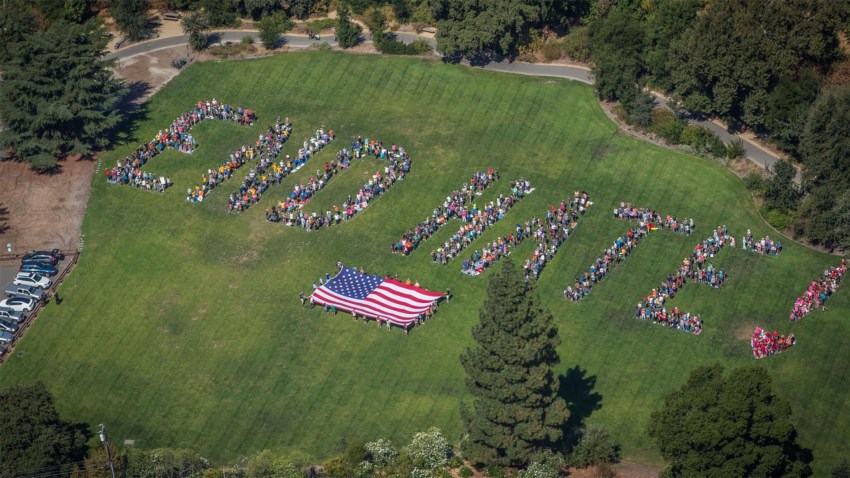 While right- and left-wing protesters railed against each other in Berkeley and San Francisco last weekend, hundreds of people assembled in Walnut Creek to convey a message to any white supremacists descending on the Bay Area: End hate.
The demonstrators gathered at 11 a.m. at Civic Park — a hub for political demonstrations in the affluent suburb — and physically spelled out the two words so they were big enough for the letters to seen from a helicopter above. Women's March of Contra Costa, the group that organized the event, paid $5,000 to hire the aerial photographer.
The money was raised through donations from attendees and recent fundraisers, although everyone was welcome to participate for free. Postcards featuring the "End Hate" human banner could also be mailed out to participants if they wished.
Aimee Martel, who attended with her 7-year-old daughter, said she came to Walnut Creek because she was looking for family-friendly demonstrations in the aftermath of Charlottesville, Va., where three people died amid a "Unite The Right" rally. She expressed worries that the counter-protests in Berkeley and San Francisco could become violent.
"We're here because it shows (the kids) that demonstrating can be peaceful and fun, and it doesn't have to be violent like the things we've seen on TV," Martel said.
Other attendees came with friends, wearing T-shirts and holding signs that they collected from other protests. A sign near the entrance of the open field advertised $5 pink "pussy hats," the infamous accessory that made headlines during the Women's March on Washington.
"We're doing this to give a peaceful counter message to the hate and racism that has been on display around the country, and that is going to be on display in our own communities this weekend," said Anita Wood, of Moraga.
A majority of attendees at the "End Hate" demonstration were white. Some said they felt a responsibility to condemn white supremacists who may feel emboldened after the election of President Donald Trump.
Stephanie Gibson, of Martinez, remarked that people of color had been unfairly burdened with fighting against white supremacy, often doing most of the labor.
"It just seems like (white supremacists) have more of a platform than they did before," said Gibson, who held a "Walnut Creek Stands Against Hate" sign. "They feel like it's OK to go out and scream 'Jews will not replace us' and come to other communities to spread their hate. All of us need to stand against that."
A handful of right-wing protests have erupted in the Bay Area since Trump's election, mostly comprised of conservatives, who don't live in California, but believe that protesting in one of the most liberal areas of the country will send a strong statement and further their cause. More demonstrations and counter-protests are already in the pipeline for September, a prospect that concerns Gibson.
Sanda Everette, of San Mateo, said she has been participating in anti-war demonstrations since the 1960s. She repudiated the Trump presidency and his administration's policies, but said she is glad that people in cities like Walnut Creek are becoming more politically active as a result of his election.
"One of the good things about Trump being elected is that it woke people up," said Everette, who declined to label herself as a Democrat or a Republican. "People have not been protesting for the last eight years. Obama really did a lot of awful things, but people don't recognize that because he's such a nice guy."
After the helicopter circled a couple of times, capturing footage seen in the video above, the group of demonstrators disbanded, many seeking shade from the hot summer sun under Civic Park's many trees.
A family watching the events unfold from a nearby playground offered a different perspective on the morning's events.
Ricardo Perez remarked that the entire demonstration seemed "counter-intuitive." The Walnut Creek man said he agreed with the organizers' message of ending hate, but described the production as "self-congratulatory." When asked if he thought it was $5,000 well spent, he laughed and said, "No."
"It just seems to me that they could have done a lot more good by donating that money to a cause that actually created change in the community," Perez said.