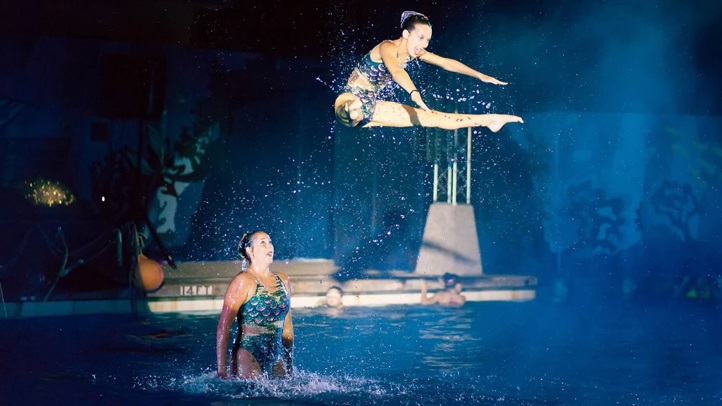 WHIMSY AND WATER: There are several athletic pursuits that are very much about pure power, speed, grace, agility, talent, commitment, and a dozen other amazing attributes that raise a peak performer to a level of top ability. But add a layer of theatricality onto these qualities, and maybe a pinch of whimsy, and you have ethereal athleticism, a rarer calling that displays an unusual and charming combination of power and plotline. That's what fans of synchronized swimming can expect when the Aquanuts return to Walnut Creek over Labor Day Weekend with an end-of-the-summer spectacular of cosmic proportions. Truly cosmic -- the theme is extraterrestrials.
LAUDED SWIM TROUPE: The acclaimed synchro team, which will mark its 50th in a few years, is famous for the 17 Olympians that have swum under the Aquanut banner. Part of the fun in watching is that so many swimmers take part, making the spectacle seem nearly effortless (at least in appearance, but anybody who has tried moving in unison with several other swimmers can confirm this is not the case). The title of the extraterrestrial show is "Earth Odyssey," which is "a routine that celebrates Earth as seen through the eyes of extraterrestrials." Nice.
DATES AND DETAILS: The Olympic sport will undergo a "dazzling display" for the show, complete with "music, special lighting effects, and a monumental 3D stage complete with glittering costumes." Call it an extravaganza of galactic proportions. But are there swimming pools in space? Just for an evening or two, we'll pretend. Be at the Clarke Memorial Swim Center at Heather Farm Park any night from Thursday, Aug. 28 through Saturday, Aug. 31.
Copyright FREEL - NBC Local Media