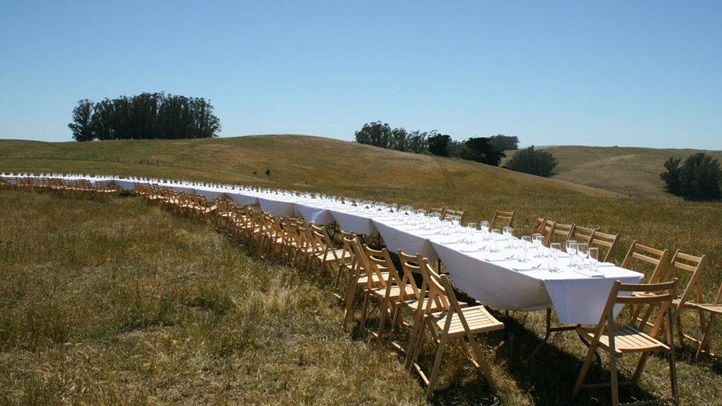 SUPPER UNDER THE SKY: Just about every food writer since food and writing were invented has rhapsodized about the pleasures of dining outdoors, whether that dining experience involves an old picnic blanket and a bag of chips or an elaborate set-up on a fancy-pants terrace overlooking the ocean. But many of us would likely opt for something between the two: A beautiful, well-prepared meal served at a table -- so a bit beyond the picnic blanket -- where we don't have to wear diamonds and taffeta -- so not quite the terrace scene. The solution? A long table night, which is becoming, more and more, a frequent sight at various Golden State ranches, farms, botanical gardens, and the occasional city street. You don't need to be fancy but there's no need to get acquainted with ants. Fallon Hills Ranch near Petaluma will soon set up a long table, on Saturday, July 27, for an afternoon of "farm-to-fork" casual dining.
THE PLAYERS: Sean Canavan, Executive Chef of Tender Greens in San Francisco, Francis Hogan, the chef at Bluestem Brasserie (also in the city), and Kevin Malloney, the owner of Fallon Hills Ranch, will be the players behind the whisks, toques, and hosting hellos. And the menu? It's a biggin, with sustainability and seasonalness serving as two keywords. Dishes includes Greek-spiced rabbit sausages, a crispy pork belly BLT, and a trio of appetizers, including a deviled pullet egg that features bacon from Fallon Hills. Price? One hundred dollars.
WHICH ALSO INCLUDES... a tour of the ranch ahead of the main course but after appetizers. When we said "an afternoon" before we should have put it in all caps and added a few exclamation points: Like many long table happenings, the Fallon Hills Ranch Collaborative Dinner takes up an entire afternoon plus a smidgen of an evening. It's dining with grand ambitions: Picture six hours of wine toasts, appetizer sampling, ranch touring, and dinner enjoyment. You'll be at the rustic spot from 1 to 7 p.m. Meaning you'll take a little sun, yet, but dressing in layers is all important.
Copyright FREEL - NBC Local Media