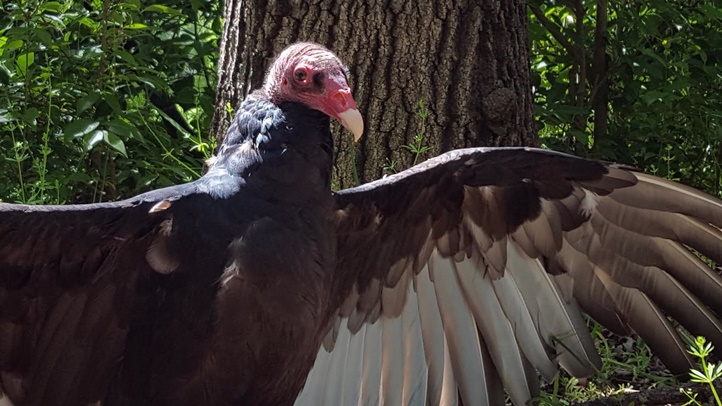 COMING ACROSS A VULTURE? In the fictional world, this might mean seeing a Halloween decoration, perhaps a vulture-shaped candlestick, on the shop shelf. Or perhaps spying a vulture character in a cartoon, the kind of hulking minion seen lurking at the edges of a castle's crumbling wall. These august creatures have never seemed to get their fair shake, at least in our fantastical tales and holiday expressions, even as vultures play an essential role in the ecosystems they occupy. Still, there are places to go where a turkey vulture is not only properly venerated, but she gets a whole party when her birthday flaps back around. If you know one of our state's most stately turkey vultures, Lord Richard, then you know that Lord Richard is A) a female and B) has called the Lindsay Wildlife Experience in Walnut Creek home for many years. And, as it always does near the start of summer, the animal-empathetic center will throw...
LORD RICHARD... a birthday bash. That bash'll fly into the center on Saturday, June 30, with sweet pleasures for both birthday bird and the humans stopping by to wish her well on her big 44th. Lord Richard will get her own birthday cake, the humans can play games themed to turkey vultures and make arts and crafts, and there are a pair of story times, too. And will the chance come around to see this beautiful avian wonder on the wing? Oh yes, at the Raptor Redwood Grove. Lord Richard has such an interesting tail, er, tale — she's been a resident of Lindsay Wildlife since 1974, after a start in San Francisco — and she's well-deserving of the accolades she basks in each summer (and, well, every day, truly).
HOW'D STAFFERS... at the center discover Lord Richard was a female, by the way? Several years after arriving at Lindsay Wildlife, Lord Ricard laid an egg. Read more about this great bird now.
Copyright FREEL - NBC Local Media