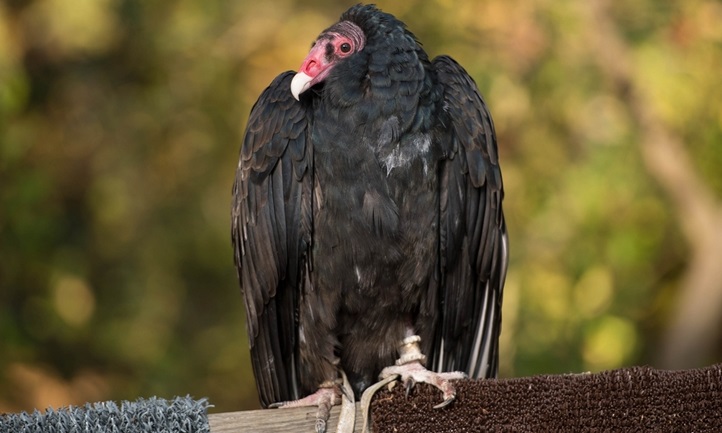 INTERNET FAMOUS FOWL: How does one get a mention on Wikipedia under a rather broad category? It isn't easy, and less so if you're a turkey vulture who is more concerned with turkey-vulture-ish pursuits and not so much with what online browsers might think of you. But Lord Richard, the turkey vulture who calls Walnut Creek's Lindsay Wildlife Museum home, happens to cameo under the wiki listing for "turkey vulture." Nothing to sniff at, or, erm, peck at, for sure; it's a big deal. Bigger still because Lord Richard is mentioned for her long-lived-ness. While the lifespan for the beautiful and dramatic bird tends to clock in at just a year or so past the two-decade mark, Lord Richard is settling in for her big 40th. So, record keepers of the world, take note: This feathery beauty, who was first raised in San Francisco before going Walnut Creek, is truly exceptional, doubling longevity expectations.
LOCAL HISTORY: She's lived at the institution since 1974, so plenty of Walnut Creek kids have come to know her pretty face from their visits to the aviary outside. Oh, yes, and Lord Richard is definitely a "her"; staffers named her thinking she was a male and then that special thing happened that can change a mind right quick: eggs appeared. But Lord Richard she still is, and her fans'll gather on Saturday, June 21 and Sunday, June 22 to fete her 40th.
TWO-DAY FESTIVAL: A birthday cake "baked just for Richard," dance lessons for those wishing to learn "the turkey vulture dance," talks about the magnificent bird, and more to-dos dot the weekend. Birthday cake and the singing of happy birthday happens at 11 a.m. and 3:15 on both that Saturday and Sunday. Cost? $8.50 for adults, $6.50 for kids 2 to 17.
Copyright FREEL - NBC Local Media