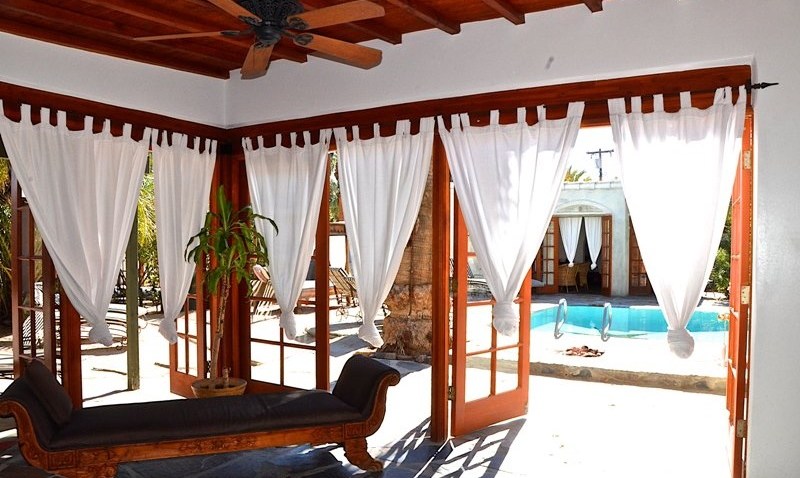 DESERT SUMMER: There are those places that are forever bragging about their moderate temperatures and ability to stay in a ten-degree range. Yep, we said "bragging," because the people engaging in the chest-puffery do not control the weather, unless they're onto something we don't know about. But we also aren't sure if moderate temps are brag-worthy; yep, things stay consistent, but the experience of a place never varies. Then you have the desert, where a December night can feel positively frosty and a July afternoon can deliver a dry-heat to out-dry-heat any of the dry-heat that cities like Phoenix cling to, with pride. In short? The desert is always different and its beauty does change depending on what the thermometer reads. Us? We love a good desert summer, where everything feels dramatic and that moment right when the sun goes down -- think 7:50, 7:51ish -- is pure perfection.
EVENING MAGIC: At Korakia Pensione, in Palm Springs, that's about the time when the famous lights and atmospheric lanterns start to light up, providing a whole bunch of mood for the desert summer night. The pools, help, of course, as do the Mediterranean, Tangiers rooms and suites, spaces that are at once austere and elegant. Oh, and something else that helps in the summertime? A notable deal.
SUMMER RATES: Rooms start at $129, studios are $179. Good stuff, and suites? They're $229. And here's something very desert: Korakia keeps limited open dates in the summer, like some historic properties do. Meaning you can book for a Friday and Saturday in July and August, but only those days of the week. Picture it now: A hot day in the city, a hotter day in the desert. Then evening. Then a cool pool. Lanterns and low lights and dusk-sweet conversations.
Copyright FREEL - NBC Local Media