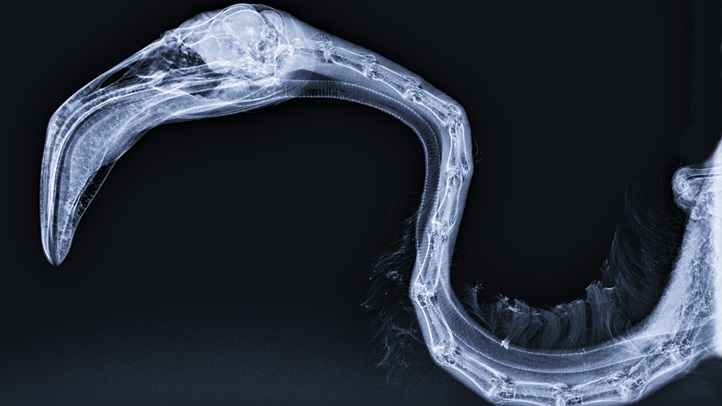 LOOK CLOSER: Many a person who makes a life among animals has known the feeling of standing alongside a veterinarian as brightly backlit x-rays dot the nearest wall. Perhaps your pup swallowed a button or your cat jumped from the arm of the couch and landed wrong, fracturing a paw in the process, but there you are, seeking ways to make sure your beloved beastie gets care and heals without too much pain. Beyond those moments, though, people not in animal medicine field don't generally spend a lot of time gazing at radiographs of birds and reptiles and canines. There isn't that much opportunity, or need, if the people don't call those birds or reptile or canines their pets. But the Santa Barbara Zoo is inviting people to sate that curiosity as they get to know the natural world better by looking deeper, closer, and more thoroughly at the internal workings of those who share our planet. "Animals... Inside Out" is a new exhibit at the zoo's Discovery Pavilion, a show that features 28 radiographs all taken from residents of the animal park.
NEW PORTABLE X-RAY SYSTEM: When the zoo acquired state-of-the-art machinery back in 2013, the better to care for the zoo's 500-plus denizens, the radiographs that were produced gave crystal clear views as to the skeletal structures of a Chilean flamingo, the African lion named Gingerbread (whose forefoot x-ray is on display), and an endangered California condor's wing. Other animals making cameos in the show include an Asian small-clawed otter and an American brown pelican.
ART, SCIENCE, HEALING: Is this of interest to a kid who might want to grow up to tend to animals? Absolutely. Is this of interest to anyone who considers lions and frogs and birds beautiful beings, inside and out, worthy of getting to know on a deeper level? And in this case, quite literally? Absolutely. The show is on through June 29 and is included in zoo admission. Also lovely? The images are for sale and money raised benefits the facility and the beasties who call the Santa Barbara animal park home.
Copyright FREEL - NBC Local Media