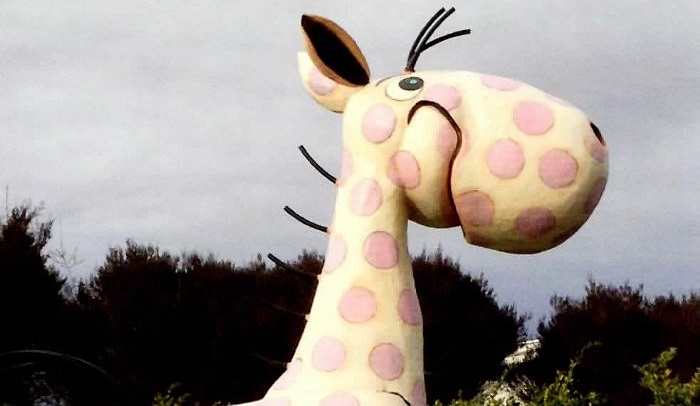 A PERSON WHO LOVES WHIMSY ON WHEELS... can be at a lost come the middle of wintertime. Everything is on sleds and skis, at least in advertising and colder climes, and strange vehicles with odd paint jobs or weird rudders or puffing smoke cannot be found.
OH, SURE... some of that turns up around Halloween, and Pasadena's annual Rose Parade is known for fantastical moving machines, too, but all one can do, come the start of the year, is turn a longing eye towards Memorial Day Weekend, when the Kinetic Grand Championship arrives in Humboldt County. The "Grand" isn't messing around, either: This is where the best-of-the-best, in terms of kinetic and outlandish and ingenious builds, come to play. But getting to May may be too much for the whimsical-wheel lover who calls Humboldt County home (or wish he or she did, like so many people outside of the county do). Thank goodness a sixteen-foot-tall pink polka-dotted pony, complete with a single peg leg, will be calling upon the H.C. on Valentine's Day 2015.
LOOK FOR THIS CUTE CREATURE... in front of Holly Yashi Jewelry in Arcata. The artist behind the rolling beastie is Lush Newton, and the engineer? He's Mr. James Hildebrandt. (Shout-out to the frequent artist/engineer collaborations seen on kinetic and non-kinetic projects around the county.) The pony will show across from the jewelry store, which is known for pieces made with niobium, "weather permitting." And it can get a mite rainy there, so keep that in mind. Even if you miss this merry animal, let it cheer your innermost heart that sometimes Humboldt County is so dang Humboldt-y in all of the creative, quirky ways. And be cheered that the kinetic high jinks are just over a fourth of a year away. Dream of polka-dotted ponies as you wait out the wait.
Copyright FREEL - NBC Local Media