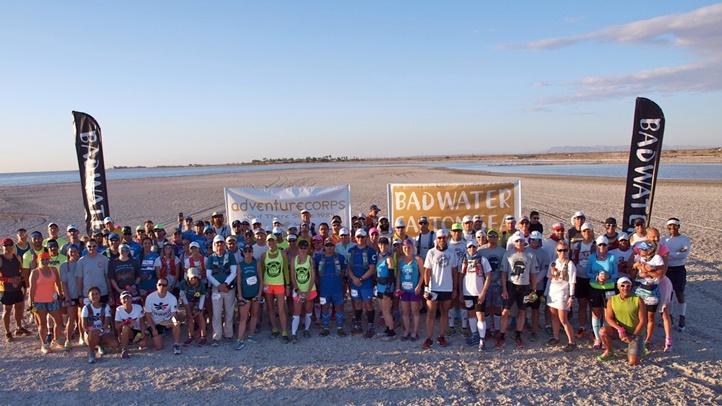 BEAUTIFUL ANZA-BORREGO, that bighorn-sheep-tacular, ocotillo-amazing desert state park, has been much in the headlines in recent weeks, thanks to the doesn't-happen-every-year superbloom. Lookie-loos were out in flowery force, looking up and down for a colorful wildflower show, the kind of show that can't always be counted on in an arid place. For the most part, those wildflower seekers strolled, and even stopped a lot, the better to admire petals from close range. But strolling, and easy sauntering, will not be the rule of the road around Anza-Borrego Desert State Park on Sunday, April 30 and Monday, May 1. That's when the famous, how-do-they-do-it?, major run the...
BADWATER SALTON SEA ULTRAMARATHON... trots on through. But to make the claim that a running event it taking on a bit a state park doesn't tell the whole story of the Badwater, which is among the planet's most intense ultramarathons. It all begins at the low-low Salton Sea, to the east of the Anza-Borrego, and it ends, 28 hours later, at the most... up on tall-tall Mount Palomar. That's a lot of miles covered — some 81 in all — and all in just over a day. Is it a relay? It is not, though teams of two runners or three will stick together. What's the elevation gain? Overall, over 9,000 feet, which is a mind-boggler, truly. If you know the...
"BADWATER"... event name from elsewhere, your memory is likely being jogged by the Death Valley to Mount Whitney summertime run, "The World's Toughest Foot Race." People do come out to lend support to the athletes, both at Salton Sea and in Death Valley. Even if you don't, keep in mind these mega warm-weather hauls the next time you're driving in the area, covering a mile a minute, and marvel at what goes into preparing and excelling at such a feat.
Copyright FREEL - NBC Local Media