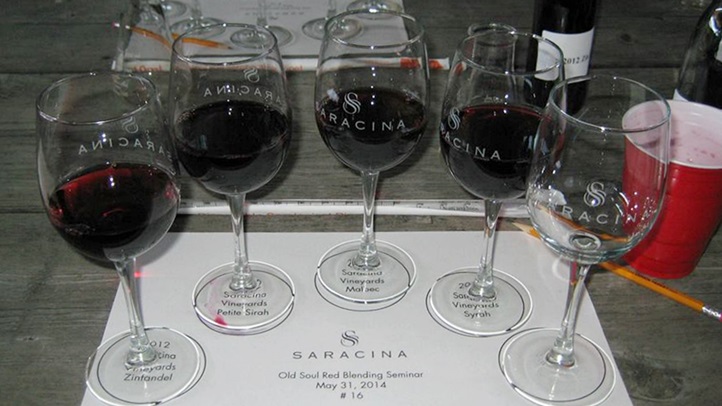 THAT ONE LITTLE THING: One of the beautiful things, and occasionally vexing things, too, about living in our modern, get-anything-you-want-pretty-much-all-the-time culture is that we've adapted a bit of a "build your own" outlook when it comes to our edibles. Thank the froyo movement, in part, if you like -- it's pretty dang easy to pile on the fudge and sprinkles when frozen yogurt is the base -- or thank salad bars or baked potato buffets or any snackable spread where you can personalize, to the very smallest ingredient, the stuff you're about to consume.
WINE WHIMSY: This customization trend, however, stops firmly at the winery doors. As a rule, oenophiles are not invited in during the mixing and the sniffing and the swirling stages, when blends are in the hands, and noses/mouths, of longtime winemakers. There is no froyo wall equivalent to making your own perfect cab, in short; best buy a bottle or try a new label and see if that winery's particular mix works for you. On rare occasion, however, fans are given a chance to play kitchen wizard with a few different wine tastes. Saracina Vineyards of Hopland goes this lighthearted, what-kind-of-wine-would-you-blend route each year, inviting fans to create their own dream bev.
SATURDAY, MAY 30: Take a place at the blending tables and "indulge your inner winemaking aspirations by joining our Winemaker Alex MacGregor" at the second Old Soul Red Blending Party. A barbecue lunch is in store -- think that famous Noyo Harbor salmon -- and the chance to build your perfect vino from various components. A dash of sweeter wine, two pours of something dry? You'll be "experimenting with different varietals" as you search for the sweet spot in a glass. Cost for the midday seminar? Sixty five bucks. Telling your friends, the very people who love the build-your-own food concept, that you built your own perfect wine blend? Well, that's just the little extra fun twist that comes down the road.
Copyright FREEL - NBC Local Media