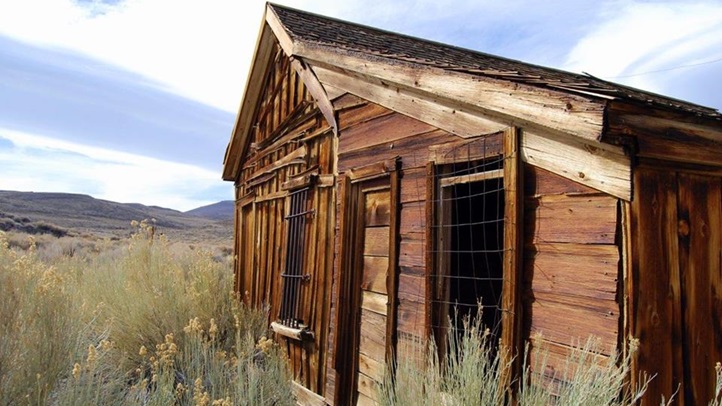 MAVENS OF MONO COUNTY... can tell you that weather is changeable and apt to jump around faster than a frog, from clear skies to rumbling thunderheads to crisp star twinkle and... repeat. The ol' chestnut of "wait 10 minutes if you don't like the weather" may be true for a lot of places in this world, but not all, which makes the beautiful extremes of Mono County all the more notable. And the seasons have been having some fun in early April, that time of prankery and joke-making and the pulling of legs: Bodie State Historic Park has now moved to its summer schedule, just in time for a little chilly spring-style snowfall. Well, what else would one expect during the few weeks surrounding April Fool's-ing? And who says the idea of flurries and the idea of warmer days ahead can't co-mingle in the season that's sandwiched in the middle?
THE PRETTY PHOTOS... of the spring snowfall are on the Bodie Foundation's Facebook, and Mono County Tourism -- Eastern Sierra shared the good word about the ghost town's summer hours, which started up for 2015 on March 18. Of course, Bodie isn't simply a "ghost town"; it's widely regarded as just about the best preserved ghost town in the world. So being able to spend a bit more time wandering its streets, peeking in dusty windows, and soaking up the away-from-it-all-ness, which one can do in the summertime, appeals.
THE SUMMER HOURS, by the by, are 9 a.m. to 6 p.m., and loads of people, many with cameras in hand, do stay the whole day. And, on a trio of special occasions, part of the evening, too, when Bodie opens up to nighttime visitors (a rare, rare thing). Of course, you'll only leave with photos, yes? The ghost town has a bit of a curse that says, essentially, leave with anything, even a nail found on the ground, and you may not be happy. Do visitors who didn't heed the rule sometimes return the items in the mail to the park? Oh, they do, they do. Bodie is best captured through a lens, the eye, the ear, and even the skin, as those Eastern Sierra breezes -- maybe bringing snow, maybe not -- play over your hair and skin.
SO WHEN DO SUMMER HOURS END... for the ghost town? Appropriately on Halloween.
Copyright FREEL - NBC Local Media