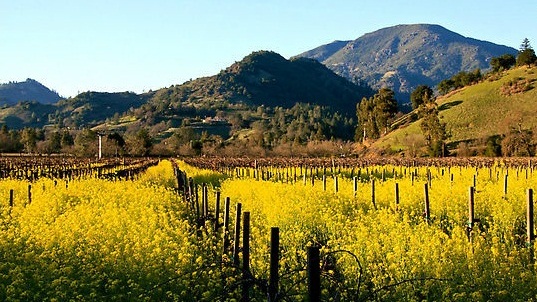 CALISTOGA CLASSICS: It's handy, at least on the brevity front, that two things that are rather synonymous with the Calistoga neck of Napa Valley nearly share the same letter set: mud is inside mustard, after all. But mustard is more a spring thing -- the vast fields of brilliant yellow around the region reveal that -- while mud? Yep. Someone is sinking into a soft, gloopy pit of muscle-easing goodness pretty much every day of the year in the hot spring-blessed area. Mmm, peat and volcanic ash, we do love your tension-battling ways. But the two similarly lettered words unite over one special weekend in March when the Calistoga Jazz Festival comes to town. It's happening on Saturday, March 9 from noon to 5 p.m.
MAYBE IT IS JUST US... But when we see afternoon-long music festivals we do feel very much like summertime might be flirting with us. Teasing, even, a little. Do you feel it? We feel it. Let's call Mustard, Mud & Music -- that's the fest's official handle -- one of summer's first flirtations 'round wine country.
ON THE SCHEDULE: David Neft, Taylor Brown, The Rebobs, and Maxx Cabello, Jr. are just a few of the performers. Oh, and also of note? Wineries like Von Strasser, Bennett Lane, and Frank Family Vineyards will be pouring. One of many things to love about Napa=wine at nearly every event.
TICKETS: They're currently $35 online and include some vino and food tastings. And, nope, no mud is mentioned as being in the concert mix, although you know it is nearby. Still, the local wellness center will be offering five-minute neck massages. There. That. We want every concert to come with wine and five-minute neck massages. Music industry, can you deliver? Thank you.
Copyright FREEL - NBC Local Media