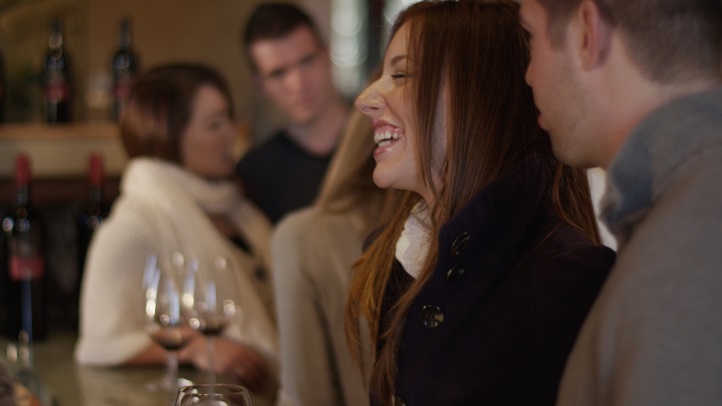 A FUN EXPERIENCE, WITH WINE: Philosophers from centuries ago and modern studies that pop up on your social media feeds both landed on the same conclusion, when it comes to happiness: Doing stuff is key, preferably with a pal or partner. Making memories is the shorthand for the theory, and while it sounds as pat as all get-out, thinkers from way back when and our contemporary sociologists were and are onto something. Which makes making an "experience purchase" a very attractive thing come the gift-giving season, but being spurred onto what exactly that means for the giftee you have in mind can be tricky. What are they into? If the answer is food, a nice dinner out works, and wine? Well, hoo boy.
THE CHOICES ARE PLENTIFUL... but all revolve around tastings, vineyards, winemaker talks, and being out in the dapply-sun air that seems to be a hallmark of California's most photo-perfect vineyards. It so happens that an easy "experience purchase" comes along in Calistoga each and every December. Make that early December, which is officially the week we start to panic slightly about getting the goods for the good people in our lives. Winter in the Wineries, the area's cold-season passport program, starts on Dec. 6, which leads up to this: If you buy a passport for a pal, and one for yourself, you can start ahead of the holidays on the whole "experience"-gathering front.
BECAUSE A WINE PASSPORT... and the relaxation that comes from trying a bouquet of vintages is something many of us would enjoy in the thick of holiday stress. But if you choose to gift your pal on the holiday itself, you're in luck: Winter in the Wineries is on through Sunday, Feb. 8. It's fifty bucks, you'll get a crack at 14 wineries, and you can undertake the tastings at any time during the Dec. 6 to Feb. 8 stretch. Discounts at area eateries and hotels are part of the wintry largess, too. Clos Pegase, Tank Garage Winery, and Lava Vine Winery are all on the list, and several others. Bam: Fifty bucks, or a hundred, if you buy one for yourself, as well, and you've fulfilled what the philosophers and sociologists say to do: Make experiences, with people. Done and done.
Copyright FREEL - NBC Local Media