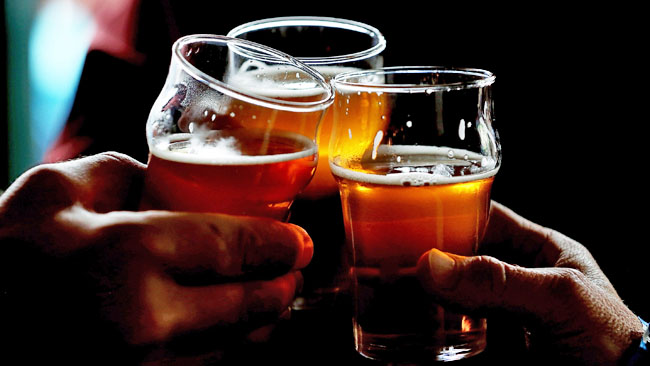 HOW TO TACKLE THAT FOAMY FLIGHT: Every beer buff under the hops-ripening sun has lofty, been-there advice on how to best approach a four- or eight-glass flight of tony brews. There's the time-honored tradition of going with the lighter flavors, wheatier hues first, rather than tackling the beers that are so heavy you'd think they're part cake batter. But some brew mavens would simply say "have it" -- if there's a certain hue of beer you favor, well, start with that one, and then work your way along the row towards those brews that are more of a mystery. Sacramento Beer Week, which is actually a bit more than a week, which makes sense given Sacramento's rise and rise as a beer-making town of towns, is very much about the good stuff, but letting people be relaxed as they approach it. No one is going to scold you for wanting to take a sip of a heavier IPA first in that flight, if that's your wish; the scholars and beerheads and foam fans who organize and oversee the week are very much about Good Times First.
AND, OH, THEY'RE PLENTIFUL: As mentioned, Beer Week is really about a week-and-a-halfer, so plan on all of the hopsy happenings going down from Thursday, Feb. 26 through Sunday, March 8. There's a full on IPA takeover at 36 Handles to kick the week off on Thursday, Feb. 26, with IPAs filling out "all 36 taps." The Sacramento Brewers' Showcase also starts things out on the 26th, at the California Auto Museum, but the beer-oriented learning and tasting head straight through the first week of March, wrapping with Capitol Beer Fest. A Beer as Food event at the Oak Park Brewing Company intrigues, as do the Craft Beer and Bacon Pairings at Auburn Alehouse.
DO YOU KNOW YOUR NORCAL BREWERS? A whole bouquet of them will pop up during the week-plus, and the Capitol Beer Fest'll be the place to catch up with what they've got on the horizon. Bike Dog Brewing Company of Sacramento, FoxCraft Hard Cider Co. of Mendocino, and Heretic Brewing Company of Fairfield will all be in the house.
Copyright FREEL - NBC Local Media