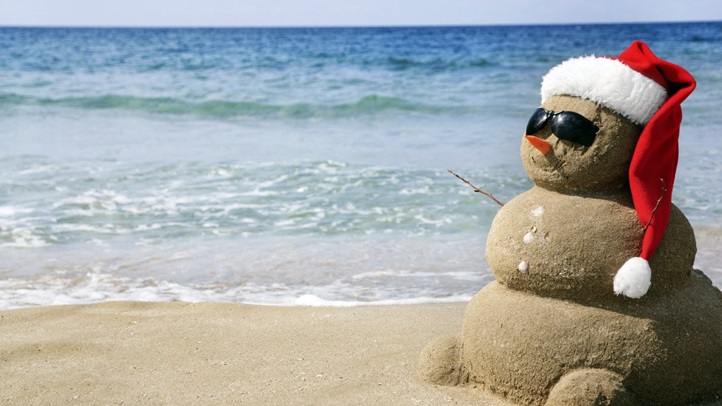 SUMMER'S END? We're still a ways out, gazing, as we are, from our July vantage point, but as anyone who has ever experienced the chillax-iest of seasons knows, the ending has a way of sneaking up. Soon it is the last weekend of summer, and the time for getting all of those summery staples in has suddenly sped up, like a clock with a haywire minute arm. One of the greatest of summer-style classics, the building of sandcastles, can happen at any time, but it is on the final Saturday of the warm season, which is Saturday, Sept. 16 in 2017, that sandcastle construction steps up in earnest. Well, perhaps "in earnest" sounds too serious; we're talking here about a light-hearted affair in an ocean-snug town that fully embraces an air of quaint-a-tude throughout the calendar. Making the annual...
SANDCASTLE CONTEST... at Carmel Beach in Carmel-by-the-Sea perfectly in lively, lovely line with all that the city stands for. This contest, by the by, has been around for a number of years — 2017 is the 57th contest — which makes it a true tradition in the cottage-iest burg in all the land. Will sandcastle builders opt to construct the local cottages out of the damp grains, rather than castles? It could happen, as a nod to the region's reigning architectural style. But bet you'll see a host of sweet sand sculptures at the open-to-the-public party, which happens on the beach south of 10th Avenue. It all gets going at 8 a.m. and judging happens from noon to 2 (giving builders some ample time, but with the clock tick, tick, ticking). The winner nabs the Golden Shovel, and, yes, some bribery ("non-monetary") goes down where the judges are concerned (think eats and such).
CARMEL'S QUIRKINESS... continues just weeks after the sandcastle showdown, with the famous pumpkin roll, but that's autumnal. For a last dose of summer, find your way to the town's beach and all of the castle-cool construction.
Copyright FREEL - NBC Local Media