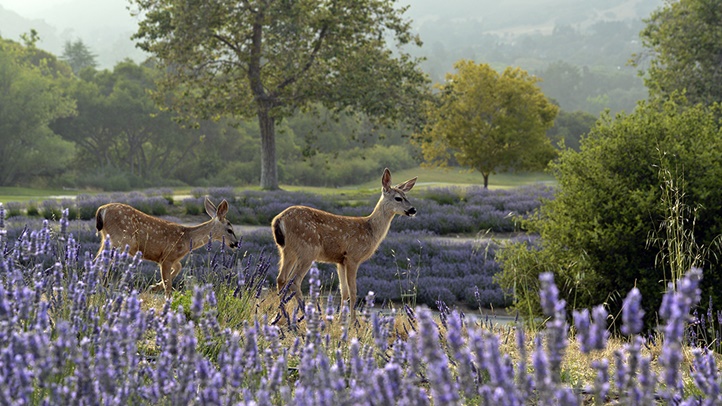 WHEN DOES HARVEST, as an idea, a season, and a passion, reach its ripest moment? That's difficult to pinpoint, and to call this a subjective topic is to probably be right on the money. For the fact is that harvest arrives, at least for some people, when the sunlight begins to change and feel fall-like, while for others it is that first grape stomp or crush experience that summons that harvest-like vibe. But some harvest fans wait on a special wine-themed experience to come along and captivate their seasonal senses. Such a happening is just ahead, and it will cover three days of tastings, agricultural exploration and learning, and the easy enjoyment of Carmel Valley Ranch, the hill-rolling, lavender-lovely destination where the annual Wine Harvest Weekend unfolds. The gathering is on from Friday, Oct. 20 through Sunday, Oct. 22, and it all begins with a...
PINOT NOIR RELEASE DINNER PARTY: It's a celebration for the 2016 Swing Reserve, a libation straight from "the resort's very own four-acre vineyard." Executive Chef Tim Wood and Sommelier Mark Buzan are at the helm of the family-style dinner, one that will include a line-up of other memory-making vinos. And speaking of memory-making vinos, the Carmel Valley Wine Experience Grand Tasting unfolds on Saturday afternoon on the picturesque Vineyard Lawn. A dozen member wineries will be in attendance, and area eateries will be on hand to serve succulent small bites, the sort of sup-worthy eats that enhance the great wines. As for other...
ACTIVITIES AND MUST-DOS... around the swanky-rustic spread? A birding walk, with an expert at the lead, will speak to the avian aficionados on the property, while Chicken Chats at the property's Hen House, an archery session, and the resort's signature Bee Experience are among the other alluring outings. Participating in a fine wine tasting followed by bee-fun knowledge followed by a guided hike with a naturalist? It's a true communion with the enduring ideas of harvest time, and of nature and the pleasures of the autumn table, too.
Copyright FREEL - NBC Local Media