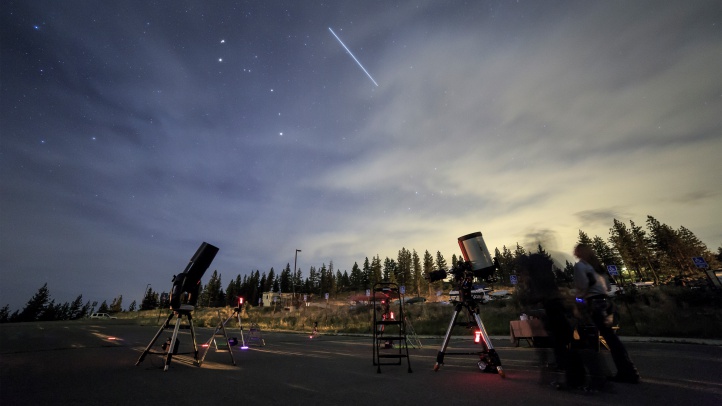 MANY SPOTS ARE STAR-OBSESSED, and several Golden State locations boast the sort of excellent events that make gazing into the sky, after sundown, quite the awesome thing to do. But there are those rarer terrestrial destinations that seem to naturally possess some of the qualities we associate with the known (and unknown) universe. Think of quiet, and think of peaceful deep-a-tude, and ponder a profundity that is palpable. Do you grok to those, when you peer into our home galaxy? Those are also some of the finer features found around North Lake Tahoe, thanks to its sublime natural setting, its relaxed approach to life, and its general air of appreciating the ethereal and uplifting. So to call upon the Cosmoarium, at Northstar California, to enjoy a night of astronomical splendor, feels like it matches the splendid vibe viewed above. And...
SEVERAL SUMMER STAR-GAZING EVENTS... are coming up right there, with Tony Berendsen, a past president of the Northern Nevada Science Coalition, at the astronomy-loving helm. Adding to the aura of the night is the fact that Mr. Berendsen is also a poet, and if anything deserves a poetic spirit, its the communion of that particular Tahoe spirit and what's happening up in the Milky Way and beyond. The "docent-led evenings," which will involve "high-powered, professional Celestron telescopes," will take place every Thursday and Saturday starting on June 13, 2019. The series, which is presented by Tahoe Star Tours, wraps by Labor Day Weekend, so be sure to truck for Truckee before summer begins to go bye-bye.
THE PRICES? An adult astronomy fan is $45, a 12-and-under kid who thinks the cosmos is way, way cool is $25, and "well-behaved, leashed dogs" are welcome (we'll assume pups dig the planetary scene, too). Summer, Tahoe, the universe, learning, art, the very starry sky, all together in a heart-thrilling super-stew of mind-growing proportions? This is as tempting as Pluto is petite. Find out more, now, for one of the area's most astro-tastic events.
Copyright FREEL - NBC Local Media