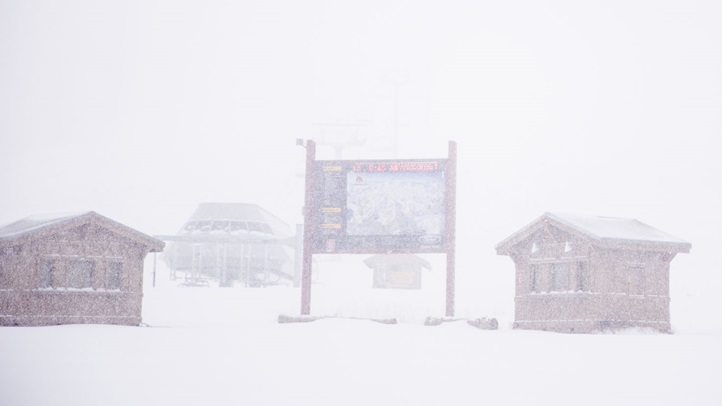 IT'S NO SURPRISE... that October will get snow, at least in the mountains. Nope, no surprise at all, and yet many people will gaze at the skies and stick their thumbs behind their suspenders and comment at how early it seems to be for a shower of flaky cold goodness. And that flaky cold goodness has arrived: The Ahwahnee in Yosemite posted a "snowglobe"-worthy photo of its back lawn on Monday, Oct. 28, and Mammoth Mountain got a foot of snow over the later part of the weekend. And, yep: Lake Tahoe is doing that thing where it looks like about a million bags of powdered sugar have been carefully sifted along its shorelines. Even the grand and austere Half Dome is looking as it is should appear on the front of a winter-themed cookie tin (don't be sore at us, Half Dome; you truly are epic).
WHAT DOES THIS MEAN? Two things, really: The upcoming opening dates for the various Golden State ski destinations are looking very secure. A foot of sudden snow has a way of putting smiles on faces up the mountain. And two? If you simply want snow play, without all the skiers, now is the time to go, before the lifts busy-up and get crankin'. Snowball fights and snow angels are fun at any time, but especially in that quiet week or two before the slopes heat up (not literally, of course).
A FEW OPENING DATES... Heavenly unlocks the proverbial doors on Nov. 22, Squaw Valley makes its seasonal debut on Nov. 27, Mammoth Mountain'll throw wide on Nov. 7, and Badger Pass is set for Dec. 13. With all of this October snow about, we just bet a few groups of forethinking ski pals are planning a road trip now, to hit all the major openings. Smart. Very, very smart indeed.
Copyright FREEL - NBC Local Media