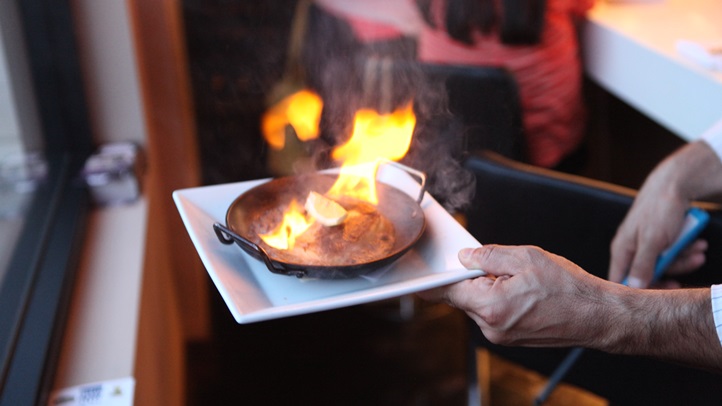 DECIDING TO STAY IN TOWN... or head out, further afield, to dine at a winery, is always the supper-focused sticky wicket when in and around Napa Valley and specifically Downtown Napa. As sticky wickets go, it is quite wonderful; you're in a place where culinary offerings are plentiful and varied and staying closer to the hub of city life or finding a restaurant on a vineyard isn't an either/or proposition. They're both going to be good, chances are very good, and likely pretty great. That's the standard of the area, which is one of the few to present the plate-based challenge to visitors: Sup in town or sup in the country.
DOWNTOWN NAPA... has a very convincing case to stay close to its streets, thanks to a strong food scene, a scene that gets an added feather in its cap come February with Restaurant Month. Yep, we meant "month" there, despite the fact that many a California city and county lassos only a week in which to show off its food-making prowess. So what are the deals and must-dos around the oh-so-walkable downtown?
THOSE MUST-DOS INCLUDE... "a Dinner and Wine Pairing with a special three-course menu available for $50 per person" at Grill 29 at Embassy Suites and lunch and dinner prix fixe specials at Tarla Mediterranean Grill (specials that are good all month long save the four days over Valentine's weekend). The Thomas Restaurant, C Casa an Innovative Taqueria, and 1313 Main at Lulu's Kitchen are all in the February-meets-foodie swing of things.
IF YOU DO HEAD INTO THE BROADER VALLEY... as one does -- again, loving Downtown Napa and the N.V. is so not an either/or argument -- you can find nice specials in the middle of the week at Solbar at Solage Calistoga, a $7 glass of local Sauvignon Blanc added onto any order at Farmstead at Long Meadow Ranch, and other goodies of the gourmet, deal-enjoying kind. Want the full rundown of city + country eats? Point your spoon in this direction, lovers of Napa (Valley and Downtown).
Copyright FREEL - NBC Local Media