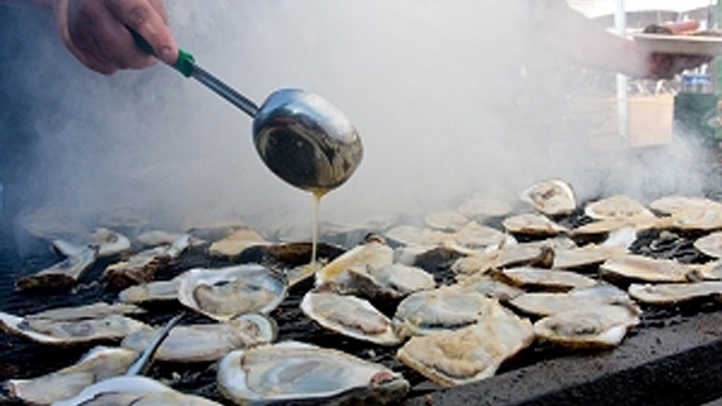 THE SCHOOL SUPPLY SEASON: Even if you haven't signed up for any classes, and it has been a decade (or two or three) since you actually walked into a lunchroom or gym or science lab, the urge to prepare for the return to school is a strong one. Unsharpened pencils take on a special poignancy, and all of those lunchboxes lining the supermarket shelves? Yeah, you're probably pondering if packing your lunch in a colorful superhero-laden box would be frowned upon at the office. In short, back-to-school-ing impacts a lot of people, and even if you aren't technically headed back, those unsharpened pencils remind us that summer is going. So, what's left to do? Eat oysters, drink wine, take in some sunshine, shop for art, chitchat with interesting creative people, and enjoy a weekend drive that is sure to include some picturesque countryside? That's exactly the tonic that the end of summer requires. Thank goodness, then, that all of these things can be found at the Bodega Seafood Art & Wine Festival, which is humming towards its 20th year on Saturday, Aug. 23 and Sunday, Aug. 24.
BELIEVE IT: Seafood is a major part of the goings-on at Watts Ranch on Bodega Highway. BBQ oysters, oyster po'boys, fish tacos, and you betcha, clam chowder will be in various ladles/atop various spatulas. There are many other edibles, and several non-from-the-ocean choices, so eye all. Bodega Bay Winery, Anderson Valley Vineyards, and a caboodle of other regional vino-makers'll be pulling corks out of bottles. And the artists? They work in paint and fiber and leather and glass and a host of media. It truly is one of the classic late-in-the-summer foodie-arty-winey to-dos, and a reminder that we all should try and breeze-it-up, a little, before fall sets in, unsharpened pencils and all.
ON SECOND THOUGHT... where can we get a lunchbox bearing images of Bodega? And BBQ oysters? We'd be happy carrying that to work each and every day.
Copyright FREEL - NBC Local Media