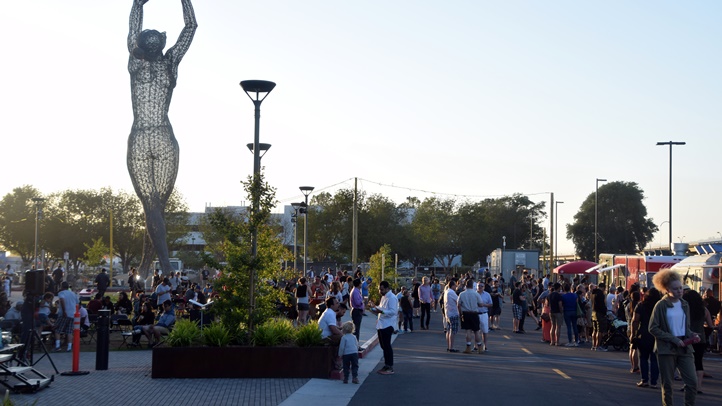 UNDER-THE-SKY SWEETNESS: You aren't required to turn down social events if they're not outdoors during the summer. That said, you may possess an inclination to suggest that the event you're interested in move into a place where it can be out in the open, for just about every gathering or party or movie night or food truck to-do seems to grow a bit gladder when the sun and/or the moon is overhead. And few things are gladder, in summer, than a...
COOL COMMUNITY GET-TOGETHER... that includes food and entertainment and riveting stuff for attendees to participate in, such as a bevy of games. And all of that, from the food to the entertainment, is happening on the San Leandro Tech Campus in Downtown San Leandro over the summer of 2018, or, more specifically, the final Thursday of each summer month, right through to August. The name? It's called...
TRUTH THURSDAYS, an event named in honor of the 55-feet-tall Truth is Beauty statue at the center of the celebration. This is year two for the free-to-enter event, which will happen from 5 to 9 in the evening. Bocce ball, corn hole, food trucks, and live tunes are part of the scene, and if you hope to attend more than one Truth Thursday, know that fresh food trucks'll rotate on through (as will the entertainment choices).
THE DATES... for this under-the-sky merry-makery? Go San Leandro, and enjoy an alfresco evening with easy-breezy stuff to do, on June 28, July 26, and Aug. 23. The San Leandro Improvement Association is the organization behind Truth Thursdays.
Copyright FREEL - NBC Local Media