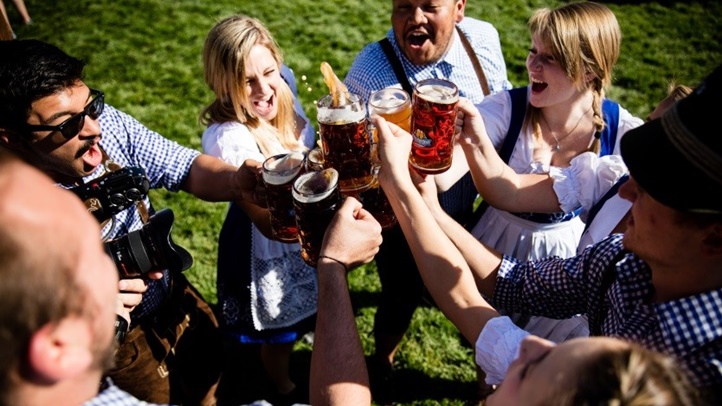 UPDATE: Due to the wine country fires, the 2017 event has been cancelled.
ROLLING A BARREL? Stick it squarely in the "not as easy as it might look" category. Same goes for a stein relay, especially one that involves you keeping the liquid in the vessel you're clutching on the inside part of the stein and not the outside. And as for stein holding? That might be the trickiest task of all. If you've ever held a cup or glass, you're bound to believe that holding onto a full stein for several seconds, then minutes, falls squarely in the "no bigs" category (which is located adjacent to the "not as easy as it might look" category, of course). But watching the faces of stein-holding competitors at a classic Oktoberfest tells a different tale: It's mighty tricky, even after a short amount of time. You'll get the opportunity to try all of these oh-so-autumnlike activities should you dance your way to Fairfield and the...
ANHEUSER-BUSCH OKTOBERFEST: Unlike some other ongoing Oktoberfests, which pop up at various Alpine-themed venues, the Fairfield affair is a one-day kind of deal, and that one day in 2017 is Saturday, Oct. 14. Admission is free, and arriving on the early side is recommended, as "a special keg tapping event" will happen just fifteen minutes after 12 o'clock. Being there around lunch is also a fine idea, should you want to nosh upon pretzels and bratwurst and potato salad. And on stage? It's the Alpen Band. It's an all-ages event, and free to enter, so call your designated driver at once and promise them a plate full of brats and pretzels on you, and then promise them a turn on the dance floor, too. As for the rolling of the barrels and the relaying of steins? Best start psyching yourself up now: They're doable competitions, but in no way easy nor breezy, so best get in the zone earlier than later.
Copyright FREEL - NBC Local Media