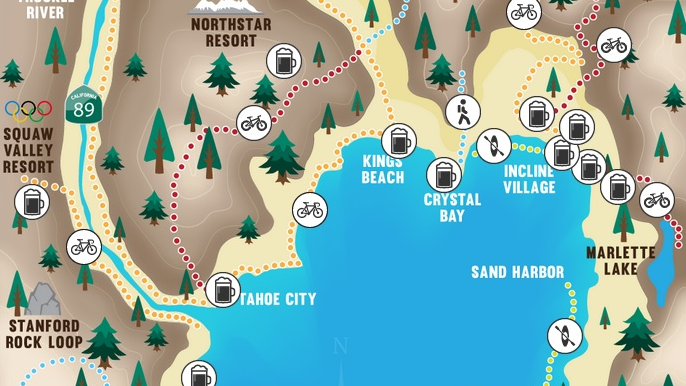 AUTUMN MOUNTAIN SUNSHINE... is a completely free commodity but almost beyond value, as some of the great things in life tend to be. Finding yourself on a deck or a patio or hillside on a fine October afternoon is to find yourself, in many ways.
You slow down, and your brain's constant dialogue starts to hush, and you simply watch the fir trees or oak leaves or the glimmer of water in the distance. But getting to this point requires a bit of planning and work and, yes, gas cash, and you'll likely want to find some food and libation during the day, to enhance that autumn mountain sunshine plenitude. Find it you shall, if you're into suds and the people who make 'em, with the North Tahoe Ale Trail map in hand. The recently introduced layout has the big lake -- that would be Lake Tahoe -- and surrounding it several spots featuring the best local ale-makery that the area has to offer. Making it all a little more delightful, and easy in the sunshine-soaking-up realm, is that the map suggests where to walk or bike, if either of those things appeal to you. (As they should, to be fully frank.)
WHO MADE THE MAP? Alibi Ale Works, described as "North Tahoe's newest brewery," with its "hop-forward" choices, is front-and-center (or right-and-up, if you want to get specific), and Mellow Fellow's "remarkable selection" of brews gets the map-nice love, too. A number of eateries that do the whole several-beers-on-tap thing are on the map, too, so if hoofing it for a couple of miles for a couple of mozzarella sticks sounds good, plus an IPA, then those possibilities await as well. As far as picking a day with that perfectly mellow autumn sunshine? That can be tricky, but any regular Tahoe visitor knows that a number of those pop up on the September-to-November calendar. Of course, the Ale Trail is pretty much a year-round gift, and not just an autumn happening, so if you can weather cold weather, and maybe layer up, you can enjoy the ales right into the wintertime, too, if snowy snowshoe pursuits, in the pursuit of craft beer, is something you find relaxing.
Copyright FREEL - NBC Local Media