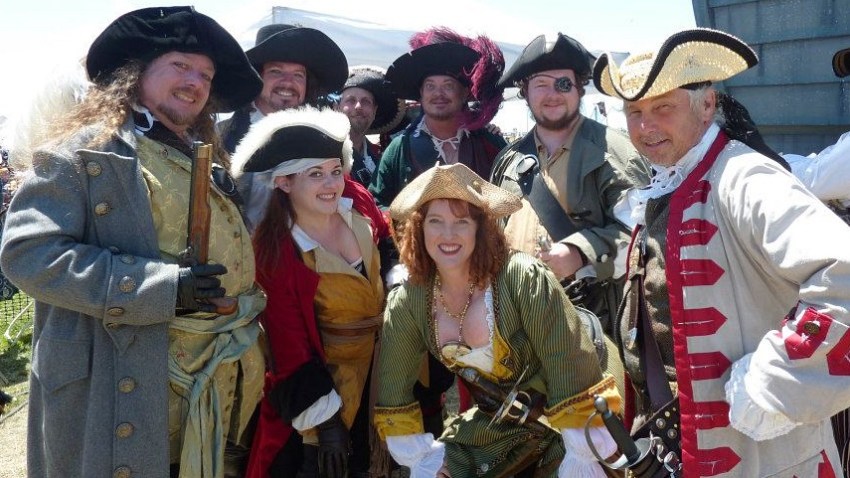 COSTUMES AND CAMARADERIE: There's no sight quite so exhilarating to behold as a feisty fandom. We're talking about those people who enjoy a certain segment of myth, pop culture, or history so much that merely reading about it or seeing the occasional movie simply isn't enough. Nope, costumes should be acquired, or, better yet, be made, and acquaintances with similar interests should be invited to a yo ho ho-esque gathering. Oh, wait, did we give away what we're about to type about there, with the "yo ho ho" bit? We did indeed. We're here today to arrrrr-in (that's pirate-ese for "welcome") the Northern California Pirate Festival, the annual swashbuckler that throws anchor down in Vallejo each June. It's doing so again on Saturday, June 15 and Sunday, June 16.
AND NOT SIMPLY "EACH JUNE"... but around Father's Day. Meaning it is a popular thing to do with Dad, if Dad is a "Pirates of the Caribbean" buff or has the History Channel playing most days. What, you're going to go to another by-the-books lunch with your popster? Please. The NorCal fest boasts action, including pirate encampments, a ship-to-shore cannon battle, and, wait for it, mermaids.
WHICH MEANS... this isn't exactly a strictly historic interpretation of pirates. Rather, it walks the fantastical route, as pop culture has done with pirates a lot in the last half century. Meaning you could show as a pirate ghost, or a non-based-on-reality high-seas adventurer, and be welcomed with open arms. It's year seven for the fest, it's ten bucks to get in, and pirate-lings 11 and under don't have to pay a doubloon to gain entry.
Copyright FREEL - NBC Local Media