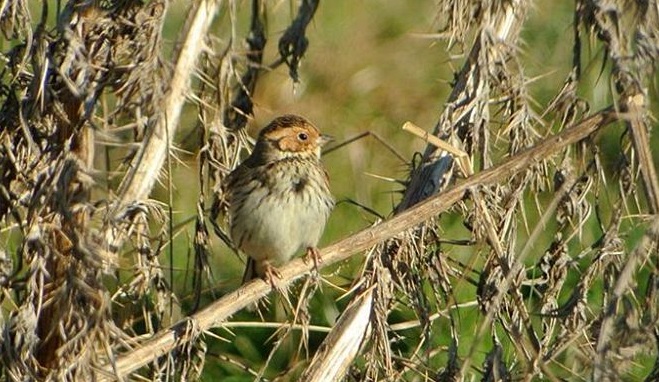 BIRDER ALERT: Any person who watches the skies, and the trees, and the shrubs, and the building ledges, can tell you that every winged creature is interesting in its own way, even if it is a bird they've spied a hundred times before. But seeing a feathery creature that's quite rare, as in, hasn't been seen 'round certain parts in over a couple of decades rare, is a whole other ball of seed. That's what's going down north of Eureka, in Humboldt County, due to a small and pretty fellow called the Little Bunting.
MEET THE LITTLE BUNTING: The Lost Coast Outpost reports that the petite tweeter "has never before been seen in Humboldt County" and has rarely been seen in the contiguous U.S. The Redwood Coast Facebook page hails the rare bird and reports that binoc-wielding visitors are flocking -- pun intended to see the wing-cute wonder, a bird that's typically found in Asia.
AND ON A MUCH BIGGER NOTE... as in much, much bigger, there's this: sperm and fin whales have been spied around Southern California, which is a bit of an unusual sight, given that wintertime is dominated by the gray whale migration. Also? Orcas, too, are making a showing. We'll guess that a Little Bunting and an Orca have never met up, but we like to believe they'd have adventures together if so, like in a kid film. The upshot is this: While the annual migratory movement and reappearances of beloved beasties is a Golden State favorite, animals rarely seen do make California cameos. It's worth pausing and admiring the visitors while they're passing through.
AND, EVEN BETTER...? There are lodging deals in the area designed specifically for birders heading up, or down, to see the Little Bunting. Fly over to the main visitor site for the redwoods area, and get your feathery savings.
Copyright FREEL - NBC Local Media