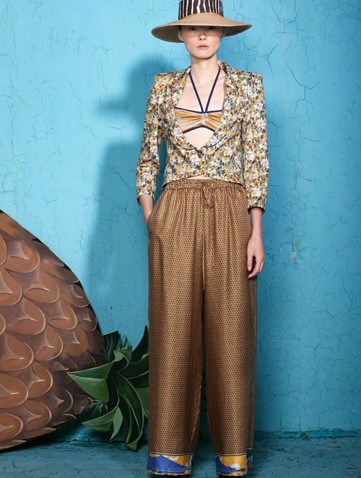 DISH-FOCUSED DAYDREAMS: Fantasies had during our waking hours are never defined quite correctly, by those who define such things. They're presented as fully formed flights of dream-a-tude, where plots are formed and the roles are cast and our daydream is, start to finish, a little like a film. But we daydreamers know such stuff is at least a few miles away from the truth. Many daytime brain-flights involve flickering scents and images, of things we'd like to do, and at least 95% of those brief, passing impressions involve edibles. Too low? That 95%? You're right -- it's probably close to 100%.
WE'RE DAYDREAMING... about what we'll have for lunch, then dinner, then what we'd like to bake this weekend, or eat out. And our little flits and fantasies very much revolve around the big foodie to-dos, those multi-day spectaculars that attract chefs with their own highly regarded restaurants and writers who know their whisks and people who love to be in that meal-oriented mix. So do many Californians daydream about happenings like Flavor! Napa Valley, which cooks again from Nov. 19 through 23? Absolutely they do -- five days to mingle and taste is the stuff daydreams are made of. And do they daydream about a luxe hotel stay that isn't far away from the mingling and tasting? Also yes, and it so happens that Silverado Resort has a package that's tied to the tastiness.
IT JUST SO HAPPENS... that the Napa property's own Chef Jeffrey Jake is a Flavor! founder, so the connection is solid. As for the deal? Score 25% off the best available rate, a twenty-five-buck resort credit each night, and more goodies, like sommelier-led wine seminar each morning on Thursday, Friday, and Saturday, before Flavor! gets going (yep, we said morning). There's more in the mix, so daydream on. Or, better yet, pull all of this into the real world, and make it a plan, not a hope.
Copyright FREEL - NBC Local Media