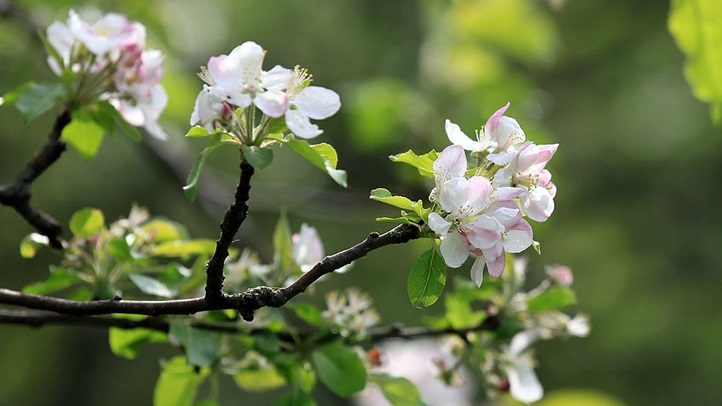 THE CHERRY BLOSSOM... is a perfect, nearly fictional creation. Delicate, pink, white, soft-petal'd, stunningly stamen'd, and the most ethereal thing on the planet, or seemingly so, it is a flower that has earned its poetic cred. But there are other buds come the springtime, on other trees that bear fruit, and they, too, are quite beautiful. If you feel like writing a poem or ode when spying a springtime tree in full, fluttery flower, there is a fantastical fruit-tastic byway, in Fresno County, that will give your inner poet much to muse about. It's the Fresno County Blossom Trail, "...a colorful 62-mile loop southeast of Fresno."
THAT'S RIGHT, IT IS IMPRESSIVELY LARGE, this loop, so don't for a moment think that you'll park your car, stroll for a quarter mile, and then that will be it, as far as seeing the trees go. The blossom-y branches stretch for a notable chunk of the region, through Sanger, Reedley, and other communities that sit to the east of Highway 99. It's a big undertaking, but as far a Marchtime marvels go, of the most nature-lovely sort, the Blossom Trail is le ultimate.
STEP ONE? There's a very helpful map on the Go Fresno County page, so eye that before dipping into your blossom daydreams. Two? You'll want to know what trees are out there. Expect to see almond, plum, and apricot flowers, as well as apple and citrus petals, too (oh, and peach and nectarine). Which will be the prettiest, to your tree-loving eye? Which will smell the very, very nicest? WE KNOW. Orange blossoms. Hoo boy. There's nothing like that bewitching scent, but a day out, in Fresno County, finding fruit tree flowers, might also rank on the "nothing comparable" scale. But the clock is ticking, so wend your way to the trail before March says its final goodbye, or even sooner, if you can.
Copyright FREEL - NBC Local Media