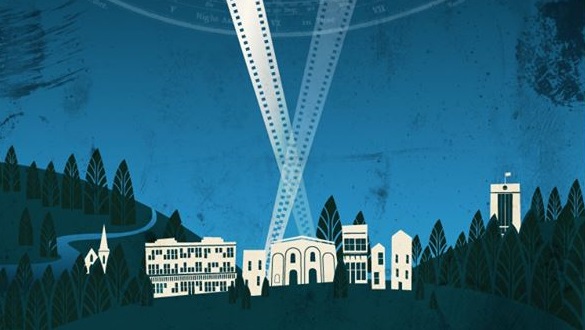 MOUNTAIN MOVIES: Mountain towns, or at least rustic towns in a foothill-type setting, have a way of attracting really excellent film festival. Yep, we're looking at you, Park City and Telluride, but California boasts a few bashes that qualify. One of the fun and funkiest is the Nevada City Film Festival, a four-day film-a-torium that alights near the end of summer. In fact, it happens the weekend after Labor Day, providing a bridge between summer's easy-breezy ways and the serious fall cinema season. That's pretty fitting for this fest, which regularly welcomes a cadre of eclectic actors -- this year that cadre includes the hilarious Natasha Leggero and funny Brett Gelman of "Curb Your Enthusiasm" -- and some inventive films.
THE 2013 DATES: Thursday, Sept. 5 through Sunday, Sept. 8.
A FILMIC FEEL: If you're standing anywhere in the historic hub of Nevada City, you can get that backlot-sweet feel. But, of course, The National Hotel and all of the Old-West-ian storefronts are real and not constructed by a movie company. The town is also a great setting for cinema because they take it seriously. The Magic Theatre and the Miners Foundry are year-round favorites for movie goodness (when we were last there, the Miners Foundry was screening "Labyrinth," which means it has our allegiance forever).
BEYOND THE FESTIVAL: The county fair rolls in August, those famous fall colors unfurl starting around mid-October, and Victorian Christmas, a perennial Nevada City favorite, festoons a number of December nights.
Copyright FREEL - NBC Local Media