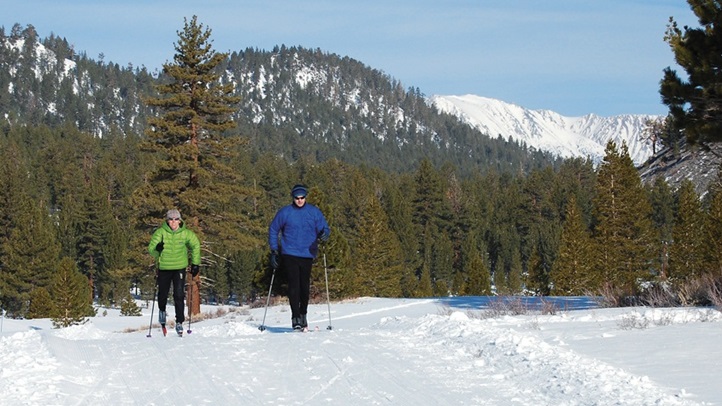 EASTERN SIERRA PEACE: California, it may not surprise you to learn, has been rather well-mapped by this point in its storied history. It is hard to clomp into parts unknown, for sure, and while your clomping may lead you to peaceful and remote and truly silent spots, someone has likely been there before you, making notes about elevation and rivers and climate and fauna. We're okay with that, but one still does desire a more quiet experience, one that is distinctly devoid of hub and bub.
THAT PROBABLY WON'T BE... some of the busier wintertime destinations. And we're okay with that, again, because socializing at the bottom of a whiz-busy slope is kind of its own lively deal. The Eastern Sierra and Mono County have that, in Mammoth Mountain and June Mountain, and they boast a solid selection of less-gabby, more-schuss-y cross-country trails. Bald Mountain and Obsidian Dome are one such choice. "Located between Mammoth Lakes and June Mountain, (the duo's) ski tracks are groomed about once a week by the U.S. Forest Service. Obsidian is the easier choice of the two, while Bald Mountain rises and gives views. And the cost of both trail systems? Free.
ALSO FREE... is Shady Rest, which is in Mammoth Lakes (in case you don't want to venture too far out into the woods). The Tamarack Cross Country Ski Center isn't too faraway from Shady Rest, and does carry a fee. But check it out: A quartet of Alpine lakes'll provide the ski-by scenery. Not too bad at all. For more Eastern Sierra ski choices, both of the backwoods and established slopes variety, check out the Mono County site and Eastern Sierra.
Copyright FREEL - NBC Local Media