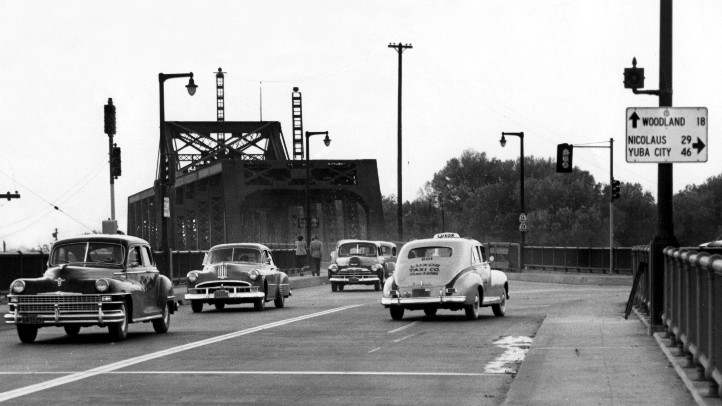 HAPPY BRIDGE BIRTHDAY, BRIDGES: It's quite the year for bridge birthdays around NorCal. Or years, we should say. It was only a couple of years ago that Sacramento's oh-so-symbolic Tower Bridge -- you know and love its mustard-majestic lines -- turned 75. And next up on the 75th birthday roster, in May? Let's see. Thinking. Tapping chin. It's big. It's painted a dark orange; "international orange," to be specific. It helps people get from San Francisco to Marin County and vice versa. Some chimps took over and threw buses around in 2011's "Rise of the Planet of the Apes." Thinking, thinking. It will come to us. But there's an even older bridge, beyond Tower and a certain orange span, and it is about to celebrate its centennial. It is the I Street Bridge, which is just up the Sacramento river a pip from Tower Bridge.
CALLING BRIDGE BUFFS: People who write blogs about bridge pilgrimages and road trips know that the I Street is a swing bridge and it can handle car and train traffic. Moreover, unlike the pretty painted Tower, the I Street Bridge just feels salt-of-the-earth-ier. We personally love them both and we love that they're longtime neighbors in our capital. And we love that the Sacramento History Museum is set to open a photo show celebrating the I Street Bridge. It debuts on Saturday, April 28 and runs through the end of this year. Meaning if you're going to hit Sactown in the next few months, and you love all things bridgean, you'll want to take a peek. You'll also love the fact that the museum neighbors the bridge it will salute. (We've found that standing around the Delta King provides an excellent almost-view of both the Tower and I Street.)
ONE LAST THING: We love you, Golden Gate Bridge. We teased before because you are so immensely famous that it is hard to put that true affection into words. And we can't wait to fete you and your orange-y awesomeness on Sunday, May 27.
Copyright FREEL - NBC Local Media