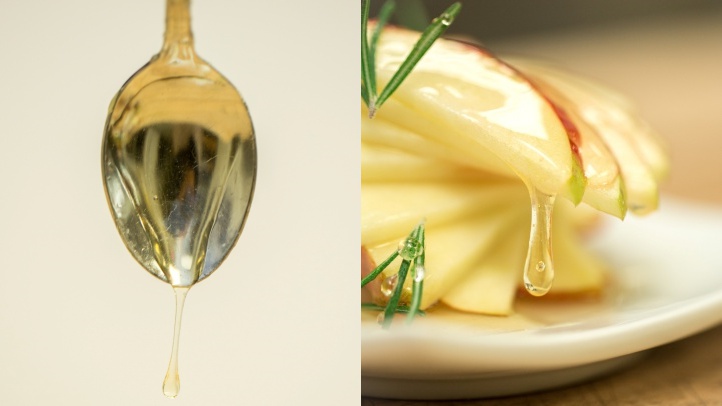 BEE THERE: "Honey" is a happy word, having, as it does, the singular hue of sunshine and the connotation of something sweet. And if someone is your honey? They're close to you, and dear, and a person who is makes your life lovelier. But indulging in the dribble-it-on, stir-it-in, spread-it-thick treat doesn't have to just be something built around your morning toast. You can invite your honey on a road trip, to Carmel Valley, for Bernardus Lodge. The upscale-but-blissfully-bucolic resort hasn't fully become be-bee'd in all of its gourmet, spa-tastic pursuits, but a maven of rich honey, and all of its nice nutrients, its unmistakable flavor, and its dish-enhancing gifts, can find a hive's worth of goodness to enjoy. Buzz over to...
LUCIA RESTAURANT, where delectable dishes like Grilled Sonoma Duck is smoked over alder wood, then paired with a "fragrant carrot puree and lavender-honey kumquat chutney." On the glass-filling front? The American Honey "... steps up with Tennessee whiskey, fresh lemon, and garden honey served on the rocks," while the Bee Sting rocks a bit of bite, courtesy of jalapeño and St. George Chili Vodka, in addition to jalapeño and honey on the rim. And if you prefer your honey to pop up in a soothing, skin-sweet body treatment? Make for the...
SPA AT BERNARDUS, where the brand-new Lavender & Honey Bee Body Treatment incorporates both "estate-grown lavender" and organic honey, too. For all of the honey-luxurious options, both of the edible and the (briefly) wearable assortments, give the pretty property a jingle, before setting your own wings in motion as you buzz-buzz to Carmel Valley.
Copyright FREEL - NBC Local Media