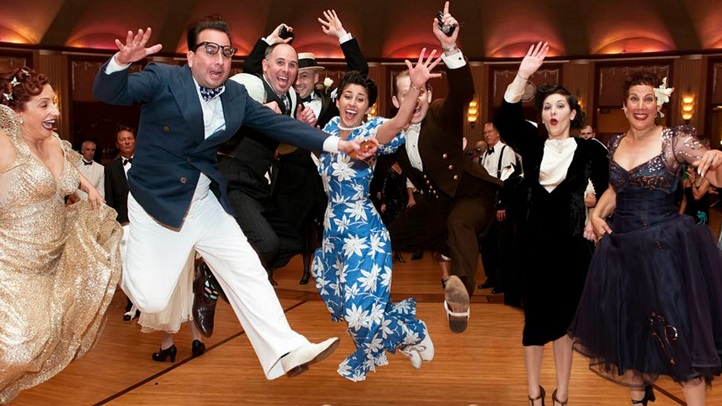 BIG SWING, BIG THING: California is pretty comfortable with the whole "let's throw on some shoulder pads and a snood and kick up our heels, big band-style" thing. Maybe it is the presence of Hollywood -- all of those old movie musicals were made in the Golden State -- or maybe it is the fact that we're fairly live-and-let-live here. Meaning if you want to dress like you a late-'30s starlet, just to go to your job, well, by gum, do it. The happy consequence of this is that there are a number of occasions throughout the year when one can wear their fedora and their tie and go to town for an evening, old-timey glam style. But they're really just single nights here and there, maybe a dance, maybe a dinner.
NOT ON CATALINA: Going to an island, though, for an event changes everything. Because you're there, on the island, once you arrive. It sounds plain, and obvious, but it is true. So if you've gone to Catalina Island for its vintage-sweet Avalon Ball in the past -- snoods on everyone! -- you know you've got more time to fill before your trip back to land (which is usually the following day, not that night). But that's been solved: The Art Deco Society of Los Angeles, the people behind the Avalon Ball, are making the annual event into an entire weekend.
AND THAT WEEKEND IS... Friday, May 12 through Sunday, May 14. So in addition to the Saturday night ball, which remains the centerpiece of the three-day hoop-di-do, there's a swanky Friday night cocktails meet-up, a silent comedies film festival, and more doings. Meaning your cute little period outfits? You can rock several of 'em throughout the weekend, not just one at the big ball.
Copyright FREEL - NBC Local Media