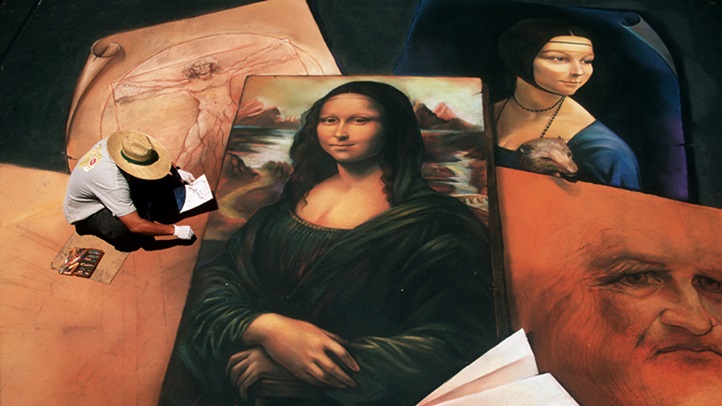 THE MADONNARI OF MARIN: Early summer, at least 'round California, is the high season for street painting. Santa Barbara, Pasadena, and San Rafael all celebrate the longtime art of the Madonnari. Think of being in a gallery, only outside, and every picture is under, or rather next to, your feet. It's a school of painting that is both beautiful and accessible. In fact, street painting, or the making of gorgeous images out of chalk and inspiration, may be the most accessible of all the visual arts. It's just there, to enjoy, out on the sidewalks of a town. It's also the briefest, too. One good rain and foosh! The pictures are gone. Thank goodness that this charming event, a happening that is set to feature hundreds of street artists, returns to San Rafael on Saturday, June 29 and Sunday, June 30.
BUT... they're not the only people who will be wielding chalk at Italian Street Painting Marin. Kids under the age of 12 are also invited to create their own street-based vision. A 2' by 2' square of cement and a box of chalk is ten bucks (but, most importantly, don't forget your camera to catch your young artist in action).
MUSIC AND MORE: The weekend has a celebratory spirit. Live tunes'll keep artists drawing and an auction helps out the local arts. Cost of going? Five bucks, but there's a VIP area, if you want to lounge there when not admiring the sidewalk squares. So, what's your favorite type of Madonnari art? We do love the 3D fantasies, though those paintings with emotional fervor hit the feelings the most. Good thing there's generally a wide range of subjects at a large-scale street painting festival.
Copyright FREEL - NBC Local Media