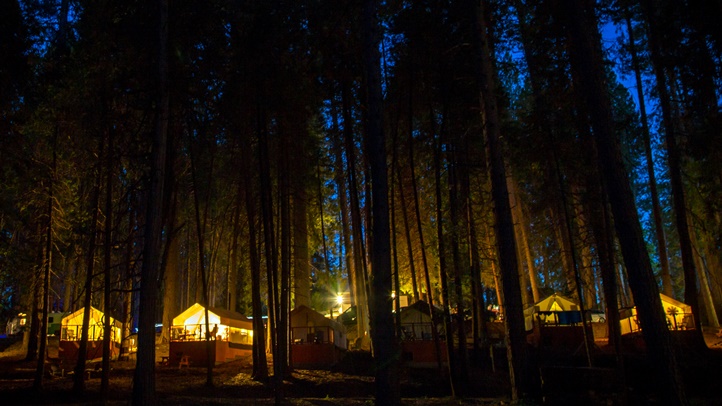 LINGERING OUTSIDE YOUR TENT, with a book, or maybe some sky-watching binoculars, or a cup of tea, or your best mate at your side? The "outside" and "tent" part may give you the instant feeling of summer, or even the later springtime. But our warmer winter has changed up the schedule at least one tent-focused location, which is now, as of the middle of February, open on weekends. It's the Inn Town Campground in Nevada City, a glamping destination that debuted in the summer of 2016. The "glamping" part may make it seem as though the well-appointed tents and RV hook-ups are several miles from any city, but the Inn Town is in town, as right in the colorful Nevada City swing of things. And now that spring has crept into winter, you can make your way there on a February weekend, or, starting in March, on any day of the week. But the early 2018 doors-wide-throwing isn't the only thing of note 'round the 'ground; there've been...
IMPROVEMENTS AROUND THE WOODSY PROPERTY, as well as a calendar of happenings through the spring and summer. Those include a Women's Mountain Bike Skills Clinic with Youth Bicyclists of Nevada County and Yoga Dive Glamping Retreat. Outdoor movie nights? Those are coming up, and craft events designed for young artists, Easter fun, Earth Day activities, and Cinco de Mayo festivities, too. As for the improvements, look for a new 2018 Riverside Retro RV at the campground, a stay-over spot that's bookable "...(f)or those interested in experiencing the RV lifestyle, but (who) don't want to tow a trailer..." That's $150 a night, but for the full rundown of prices around the Inn Town, click. And keep in mind there's a...
TENT CAMPING SPECIAL... built around the late-winter warmness. "Book three nights and receive 30 percent off the reservation." It's good through the rest of winter, and a bit of spring, too, wrapping up on March 29, 2018.
Copyright FREEL - NBC Local Media