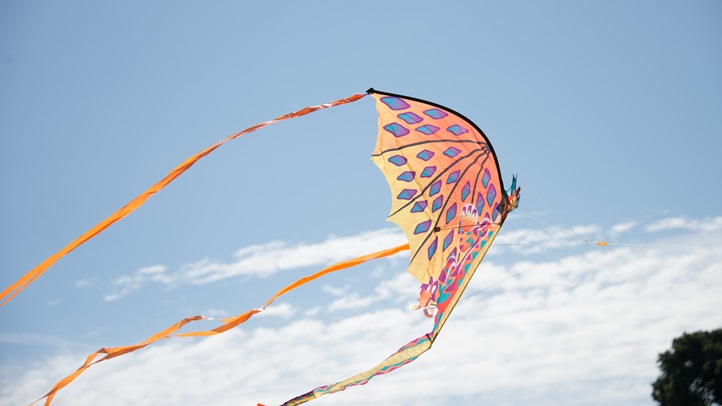 EVEN IF YOU'RE A MAJOR POETRY FAN, you can sometimes reach for the right term when it comes to the start of spring. Does the coming of the season make your senses A) stir or B) bubble or C) take flight? Do the blooming flowers make you want to A) skip or B) jump or C) a quirky mixture of both? There are many ways to describe our approach to springtime, and how it makes our senses stir/bubble, but pretty much everyone can agree on one thing regarding the season: If you're going to fly a kite, there isn't a grander time than springtime. Oh, sure, autumn may long for colorful pieces of cloth in the air, but those March-to-May breezes are poetry when it comes to a dancing dragon or butterfly high above our heads. It's a rite of passage, in fact, a spring day spent flying kites, and as rites of passage are rather rarer these days, alighting upon one that has a community spirit, and nice goal at its heart, should not be missed. We speak specifically of the Lynch Canyon Kite Festival, which supports the Solano County Parks.
THE 8TH ANNUAL FEST IS FREE, while parking is six bucks, and picnic lunches are welcome. You'll want to show with your own kite, but not your pooch, as there are critters about, and free-range cattle, too. In fact, the field where the Saturday, April 9 event will happen happens to be home to some cattle, so this might be your first ever cattle-kite crossover event (we won't assume either way). Even as the humans and their kites stay to one area, we'll hope that the cattle admire the sky show from a distance, loving the dashing, darting kites in the way we people do.
CAN YOU MAKE IT? The second Saturday in April seems a prime time for kite-based shenanigans. And near Fairfield seems like the perfectly scenic place in which to pursue them. If you can't, but would love to support the Solano Land Trust and Solano County Parks, find your info right here.
Copyright FREEL - NBC Local Media